2018 Program
LAKE PLACID FILM FESTIVAL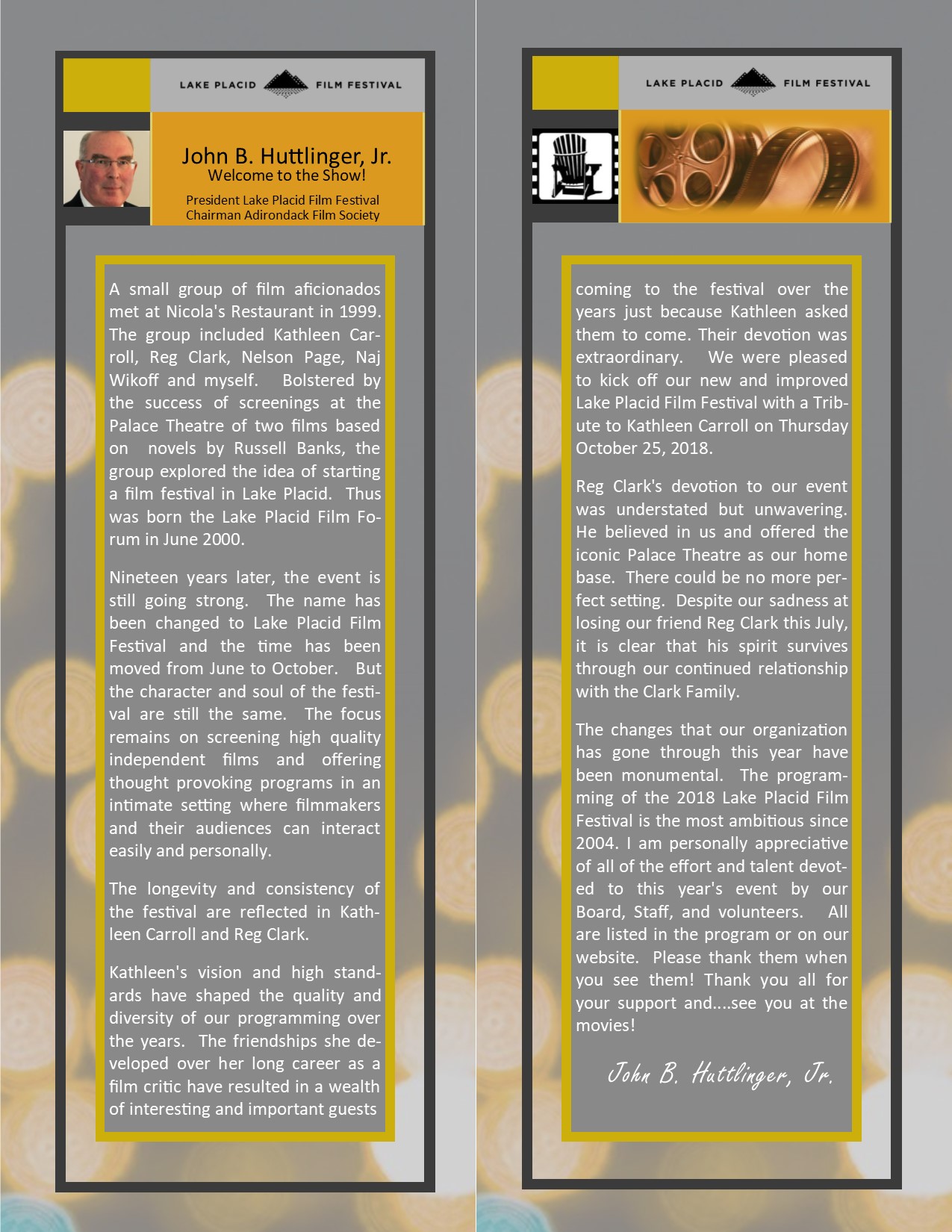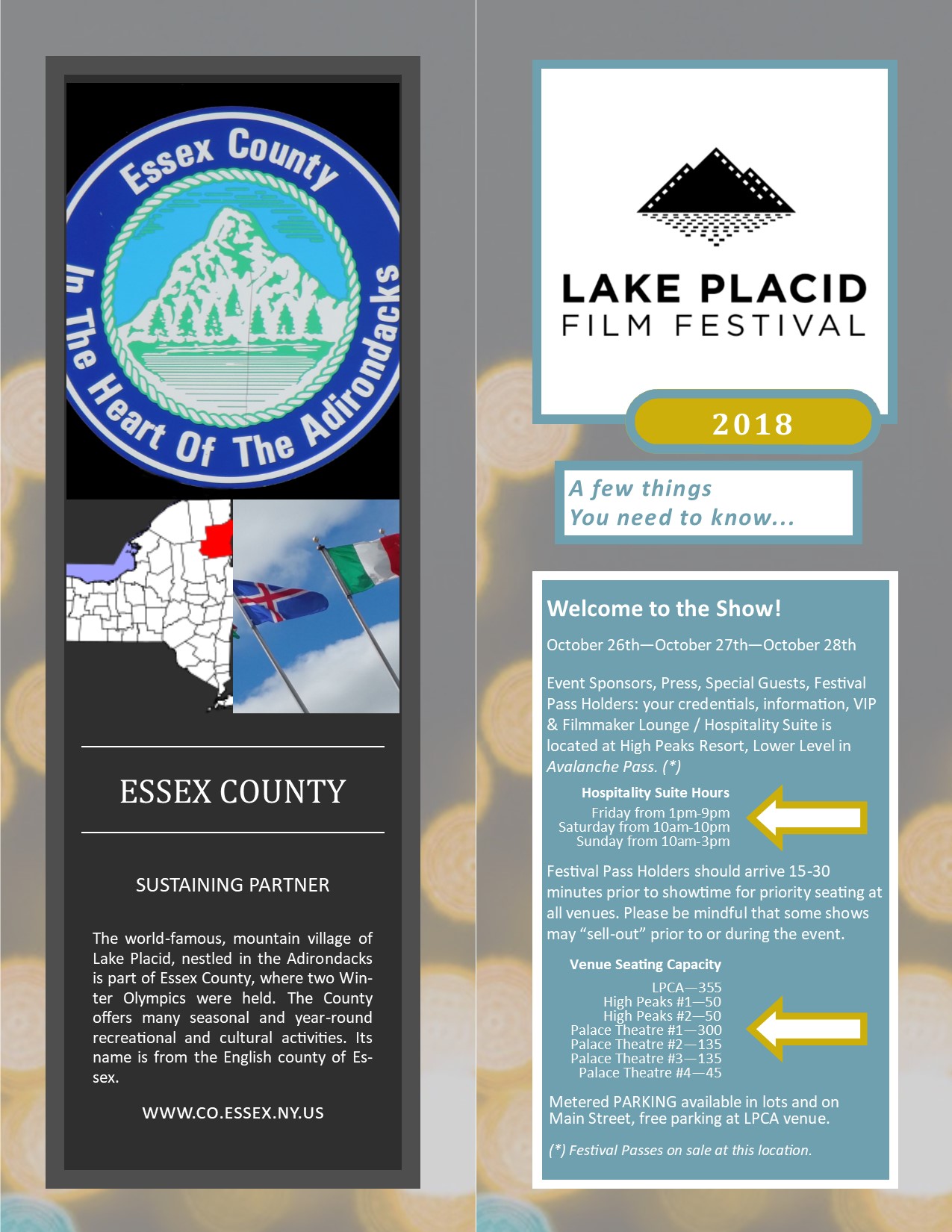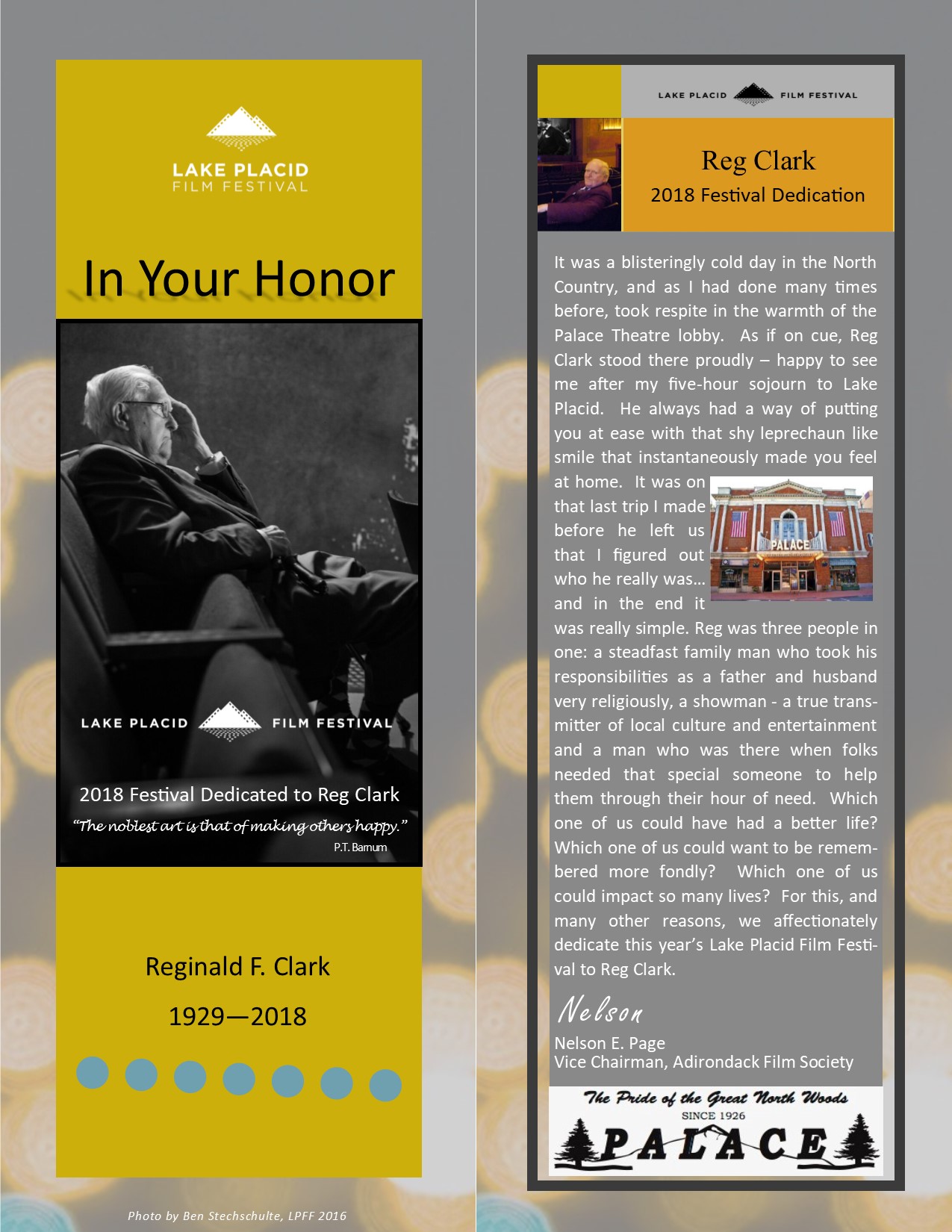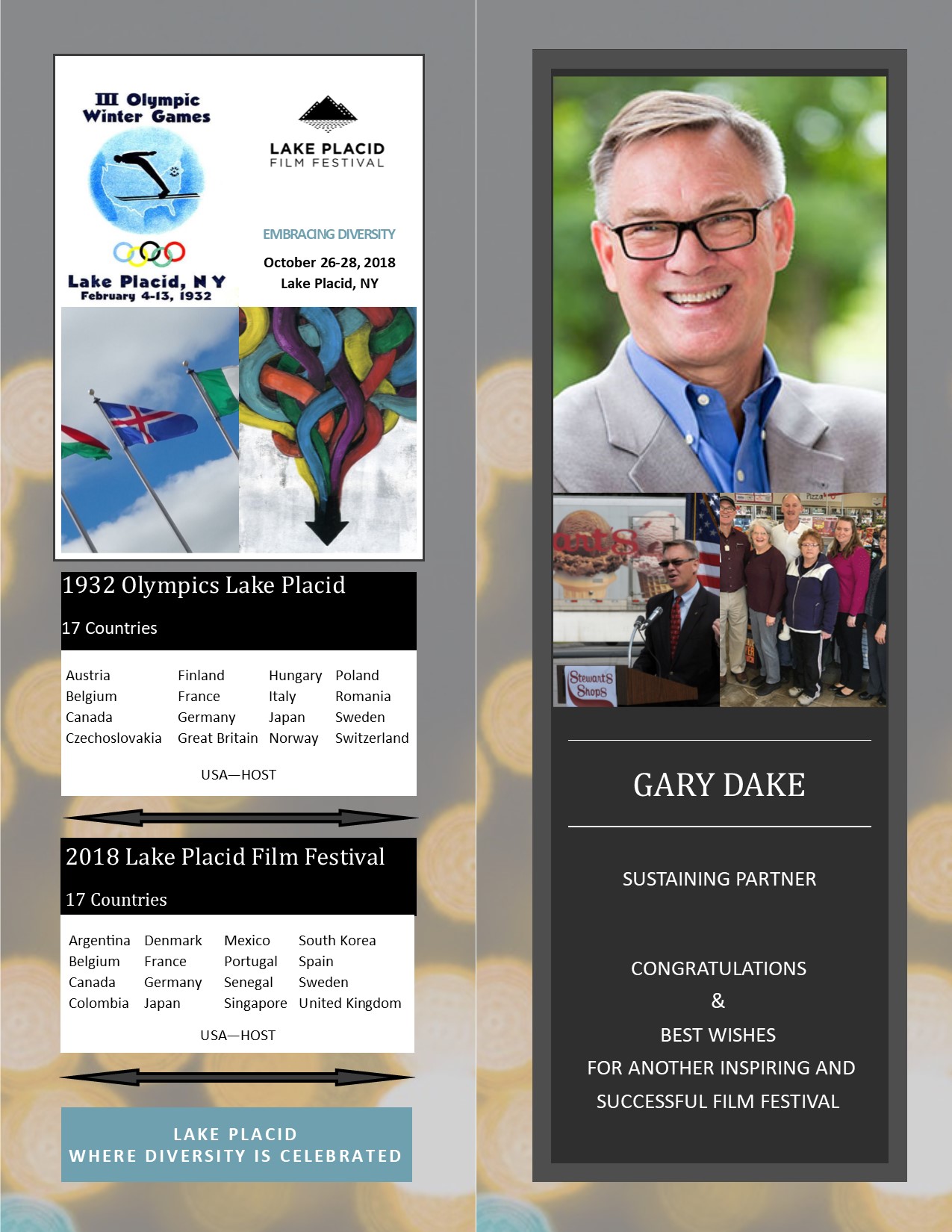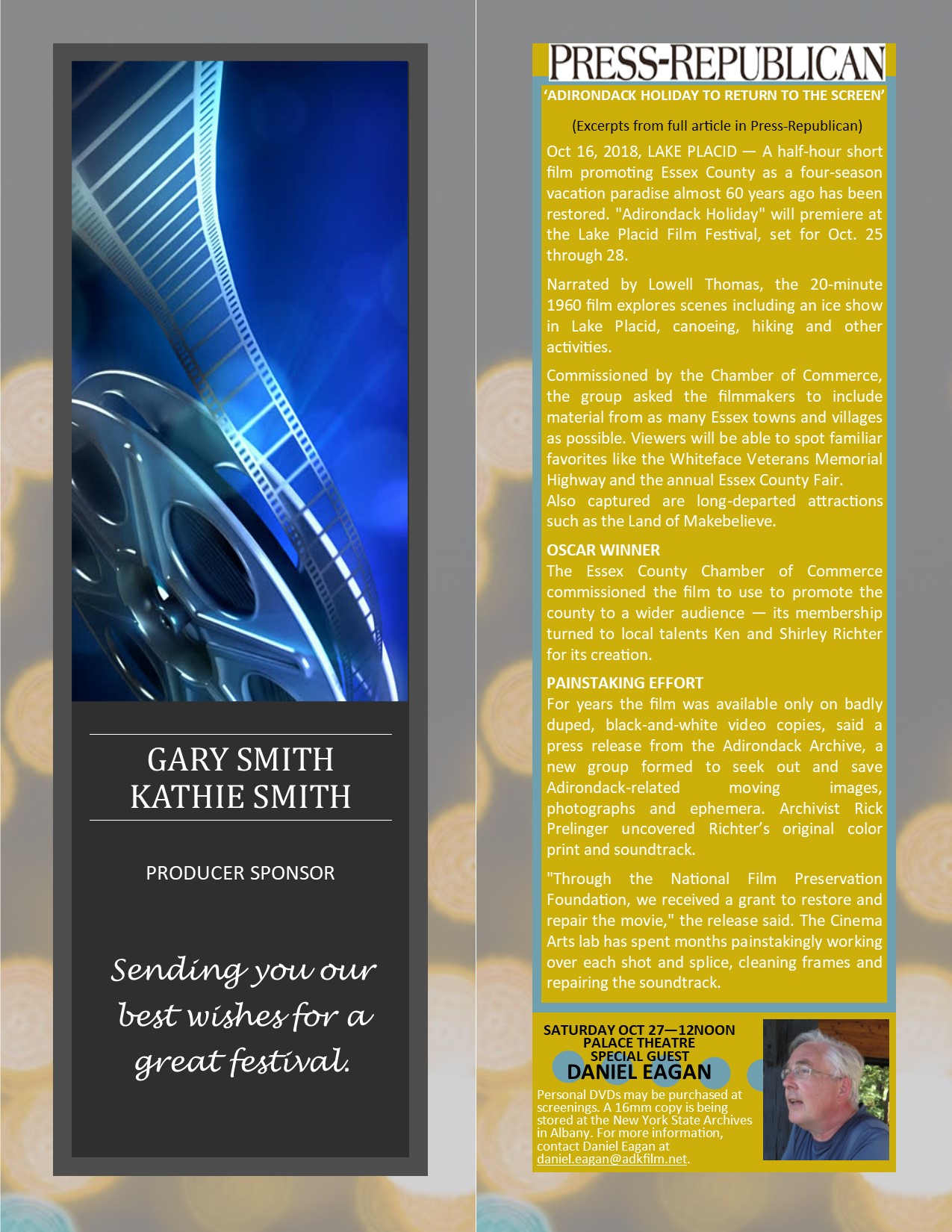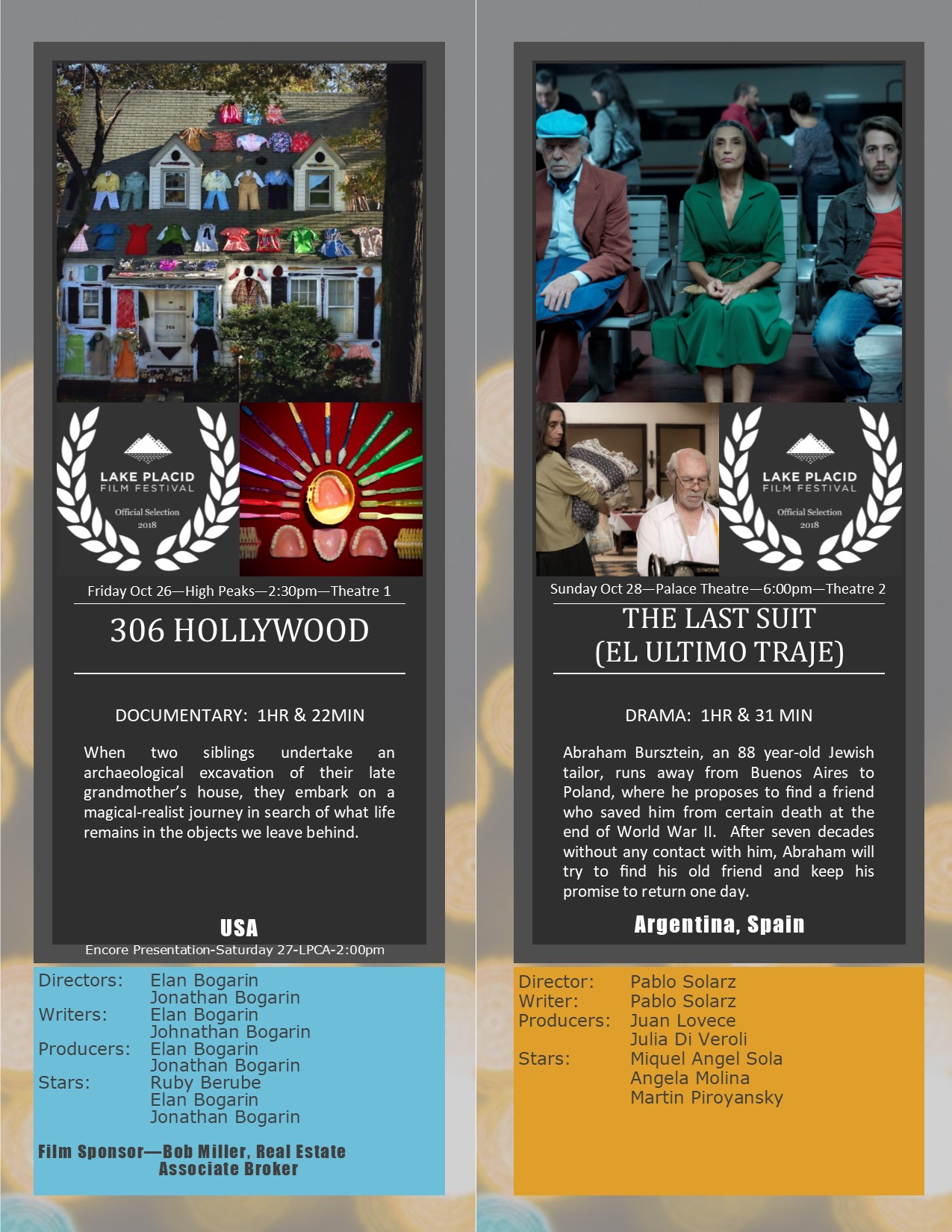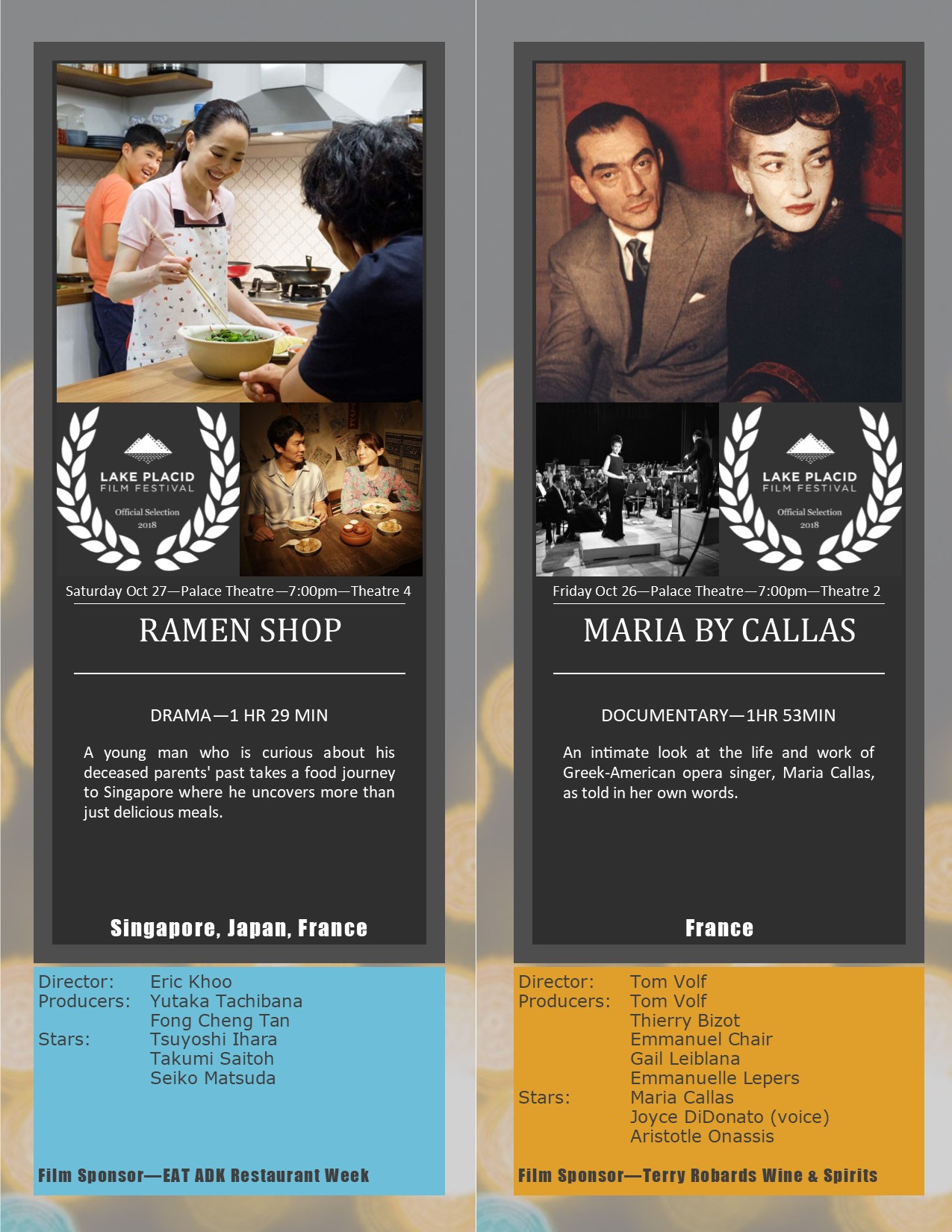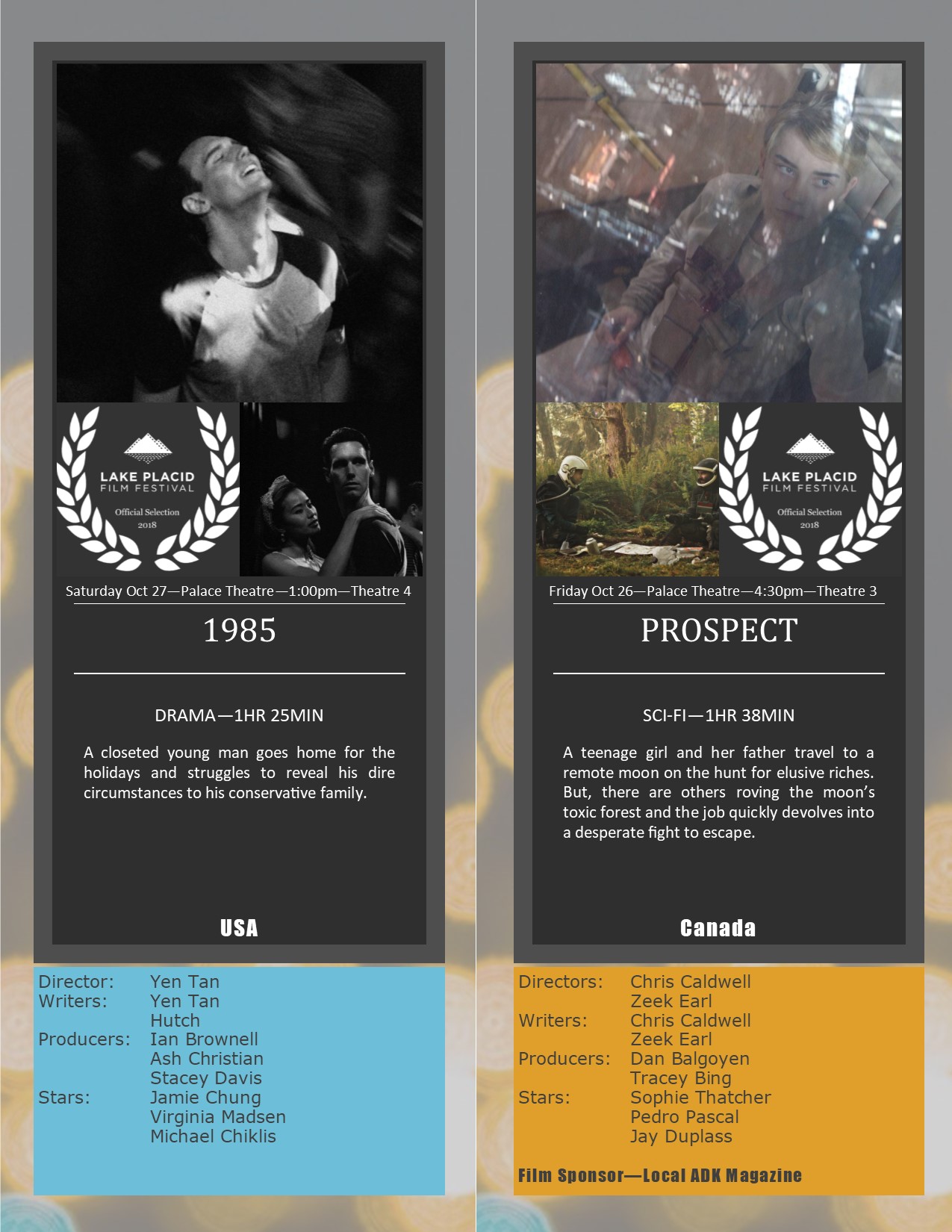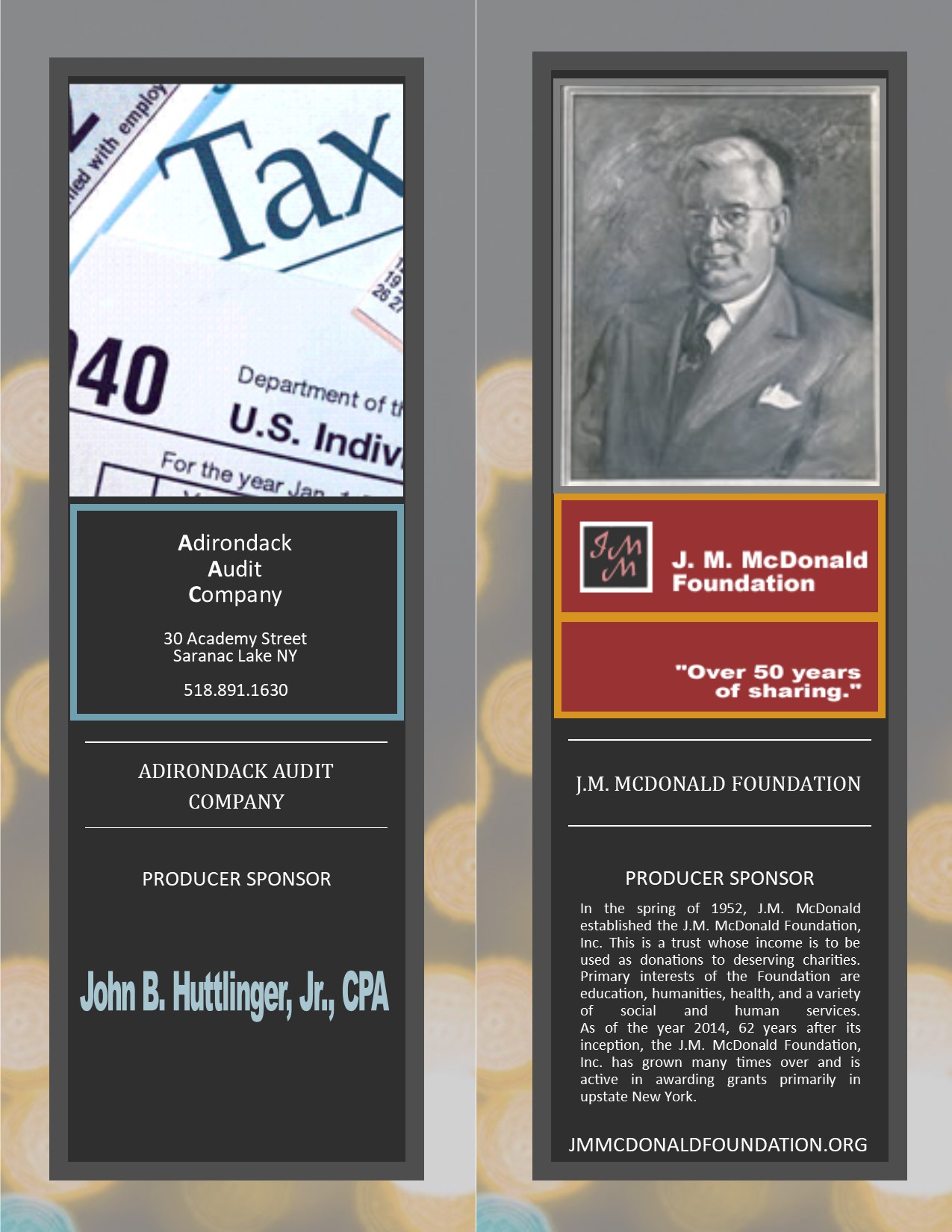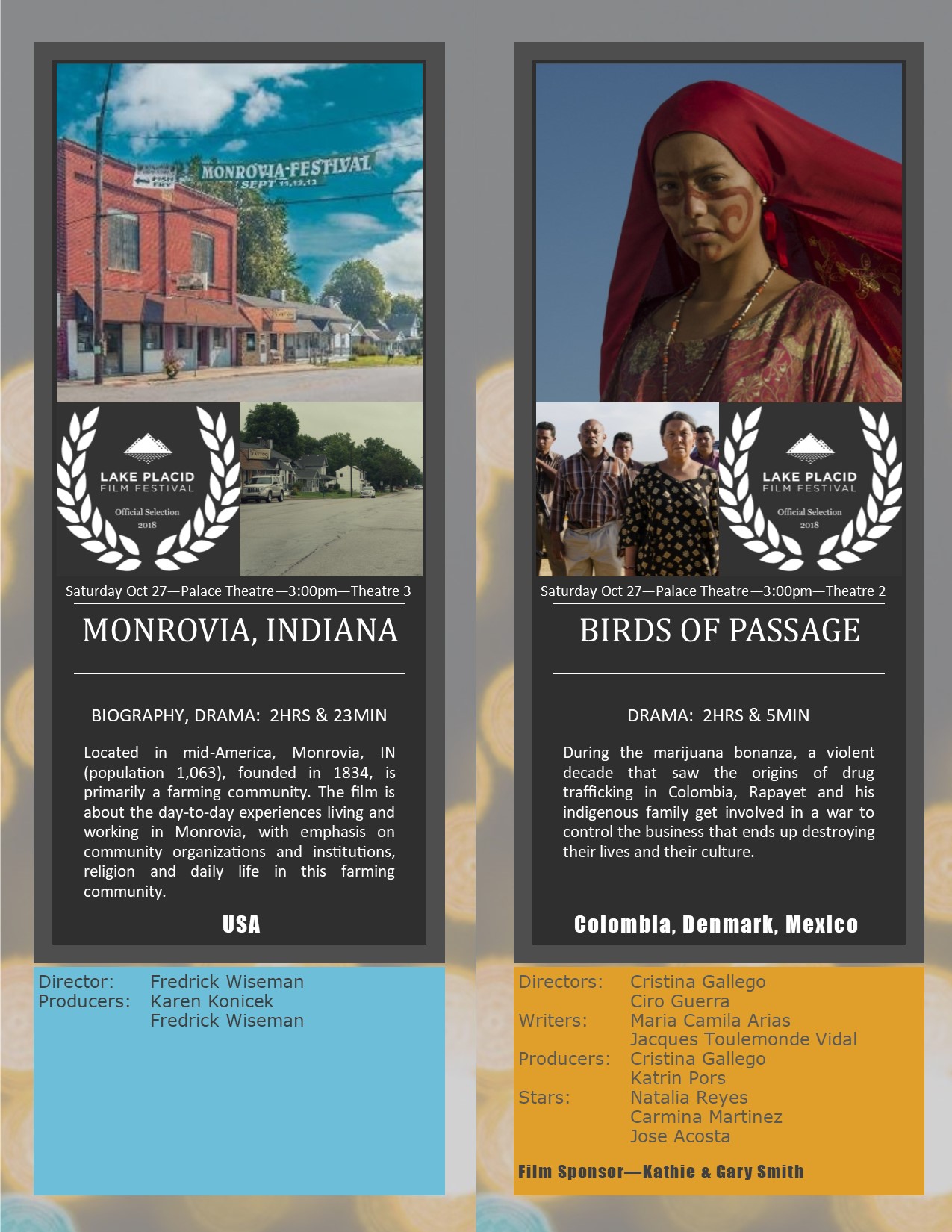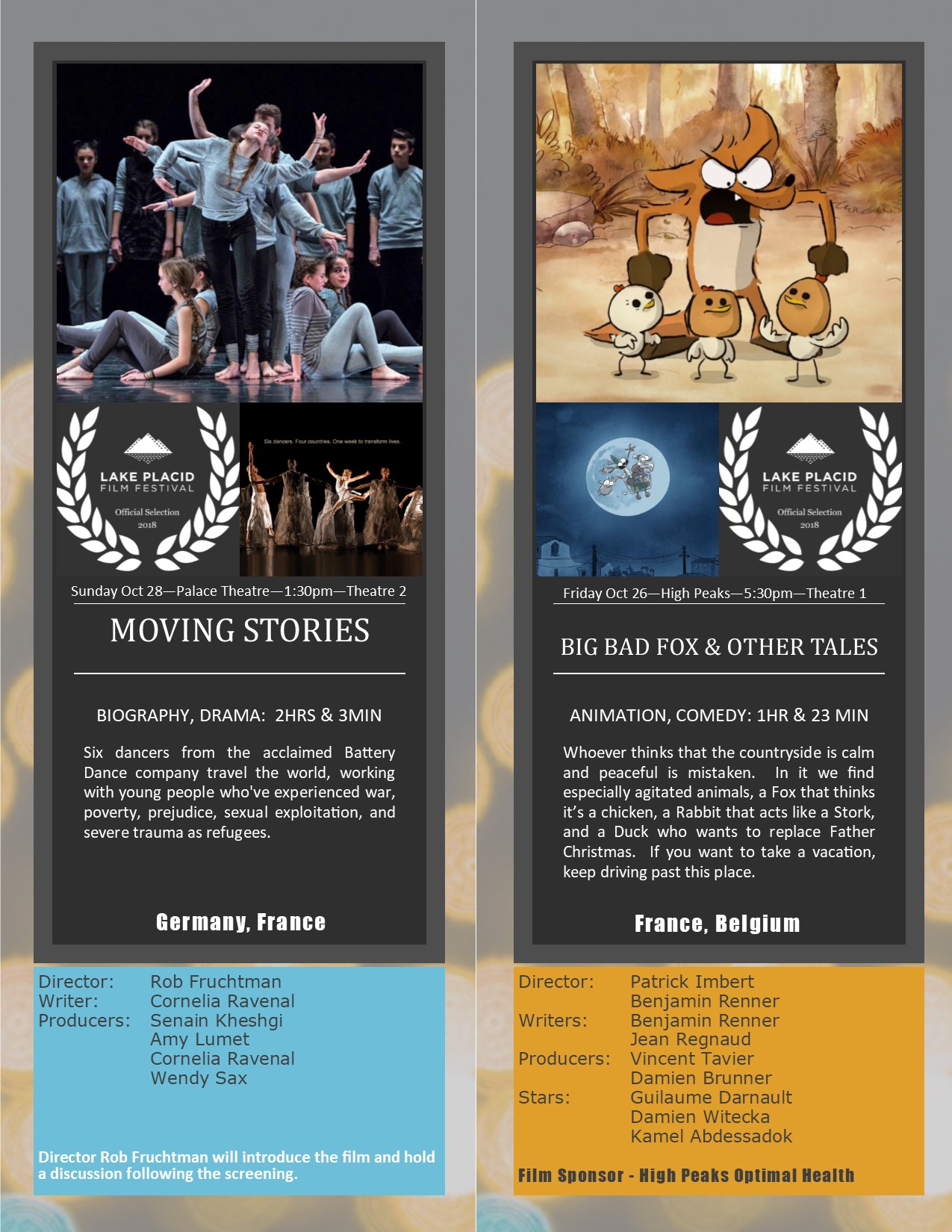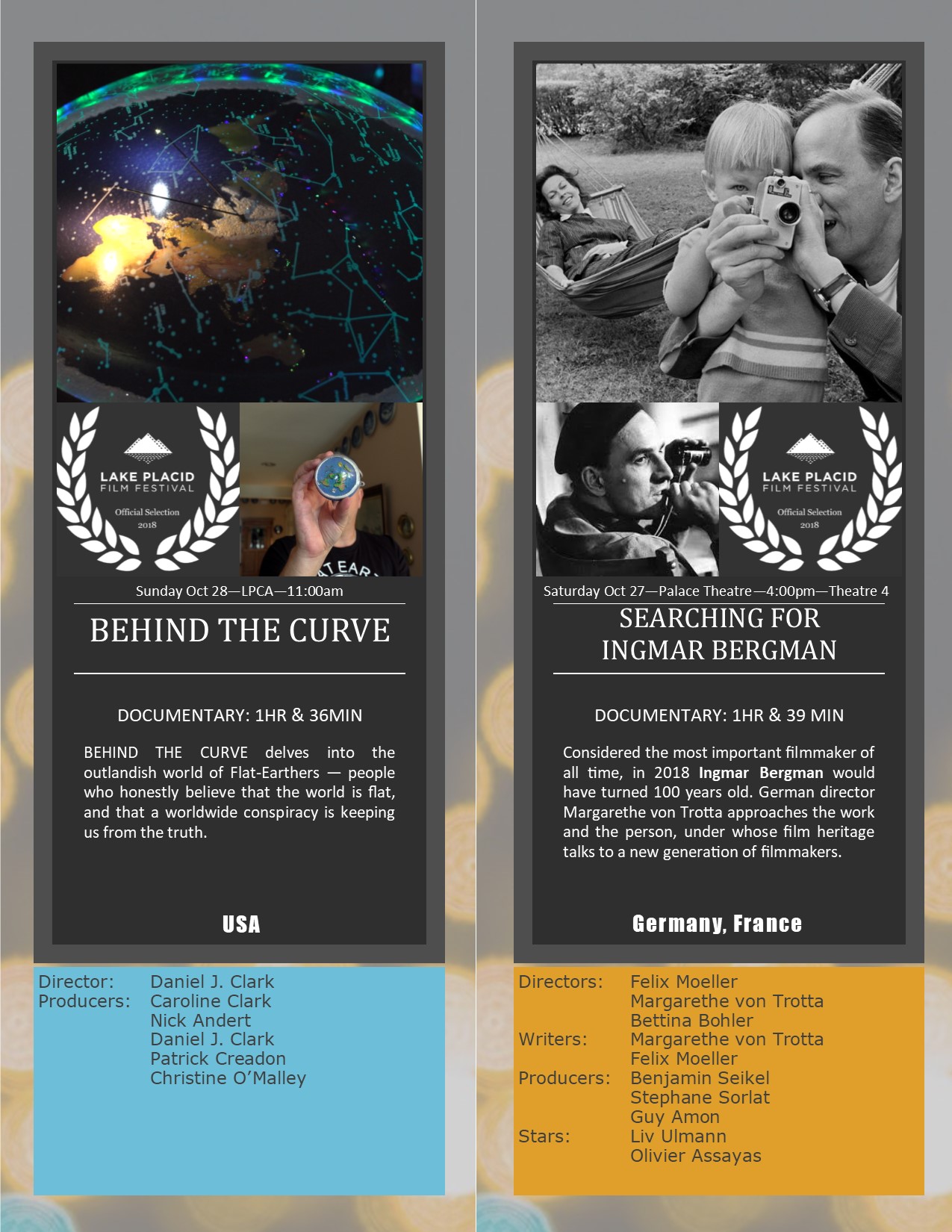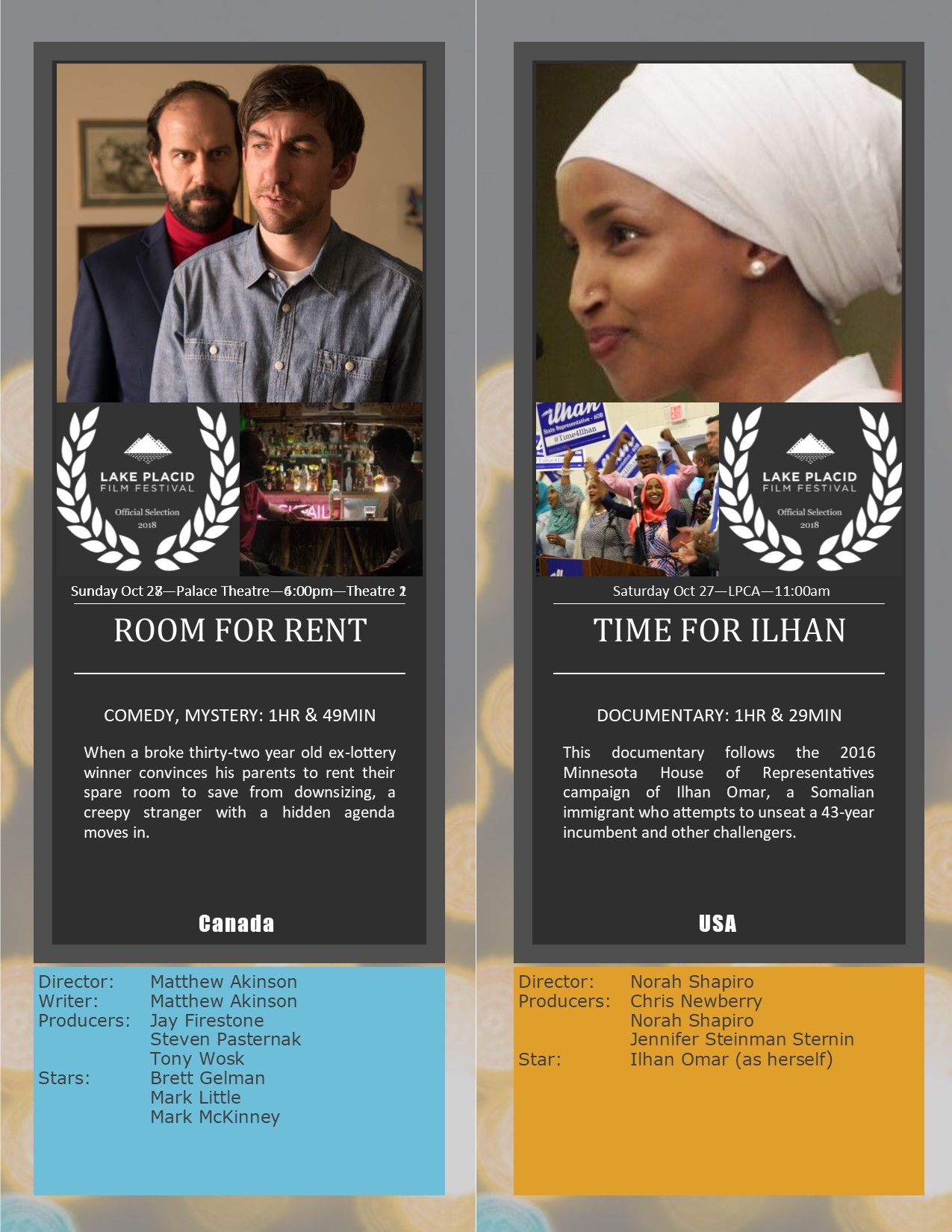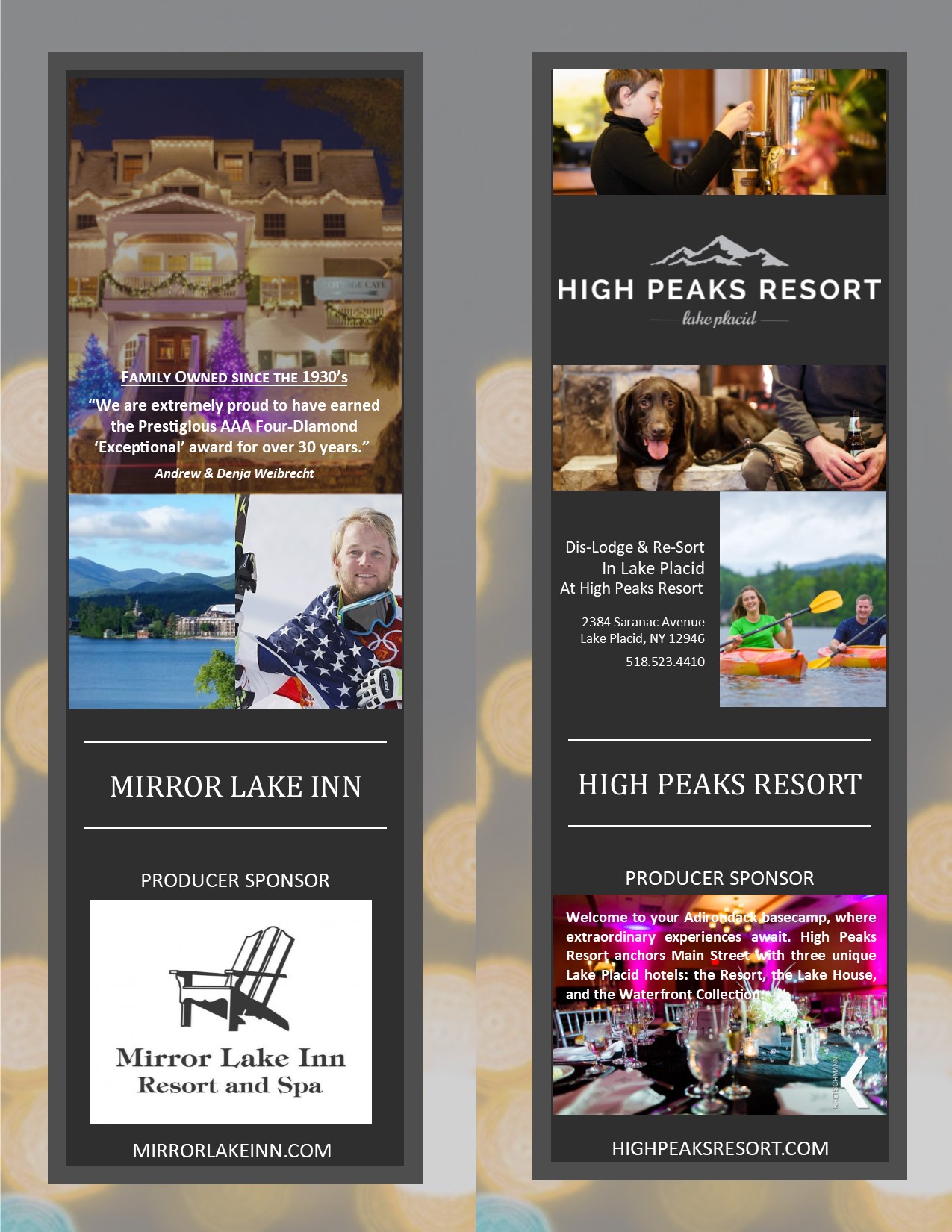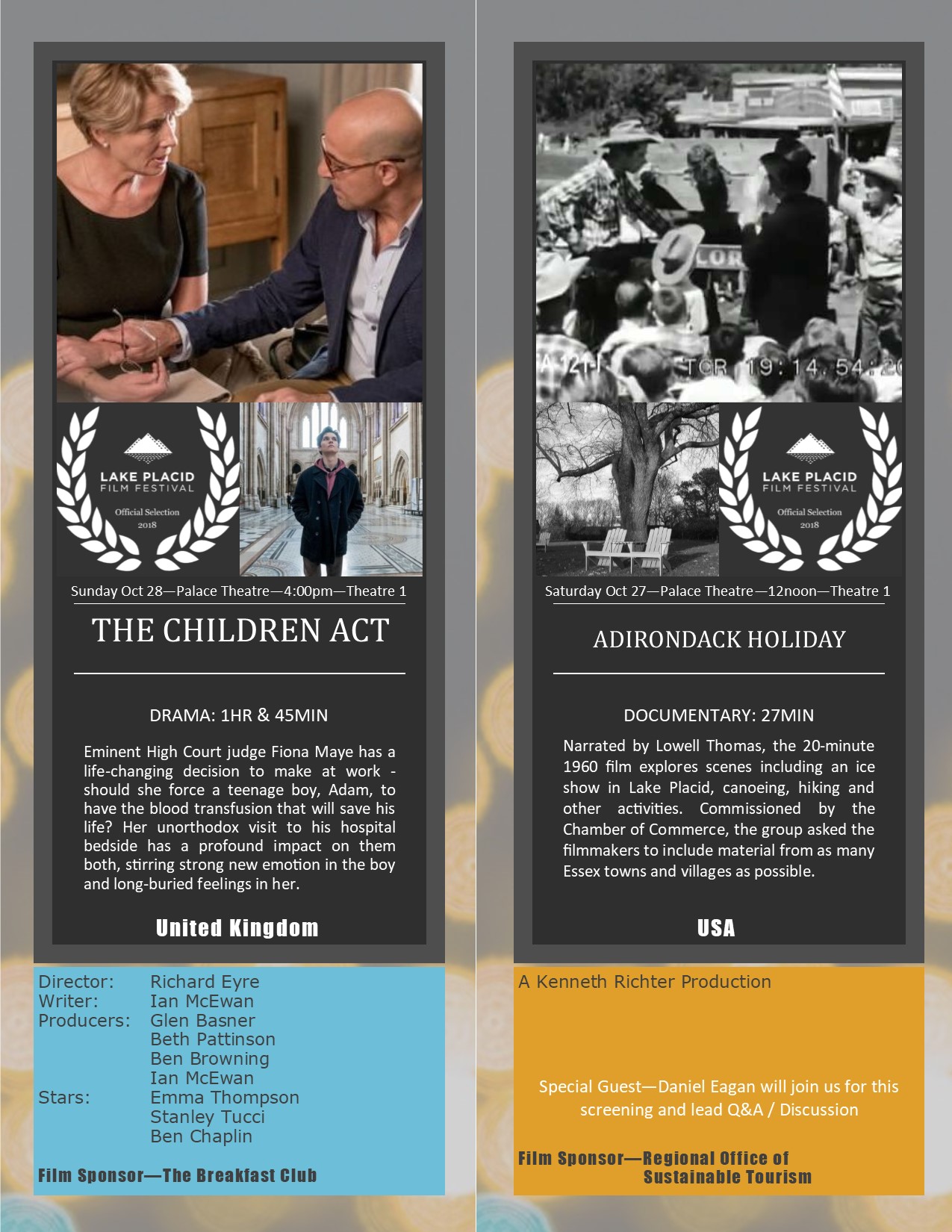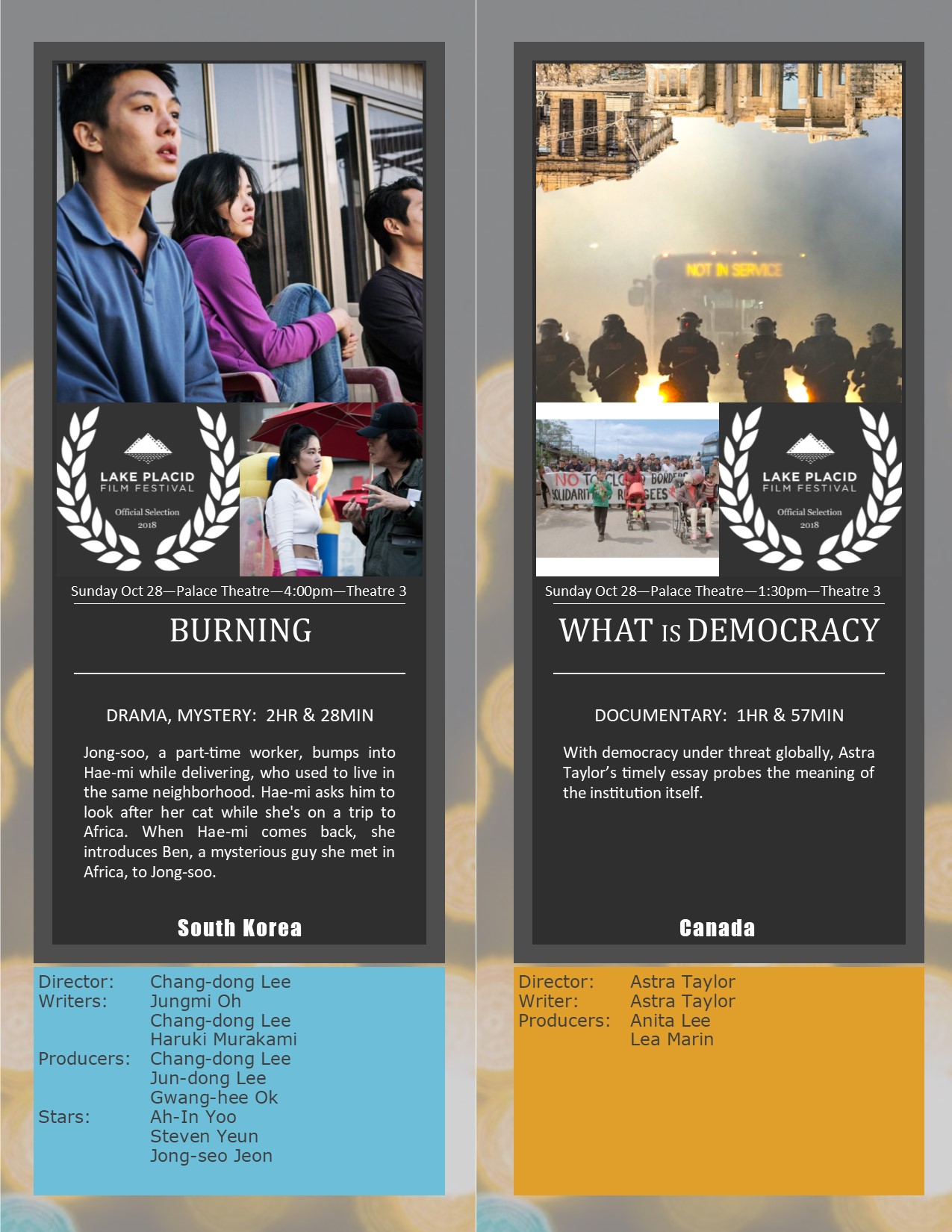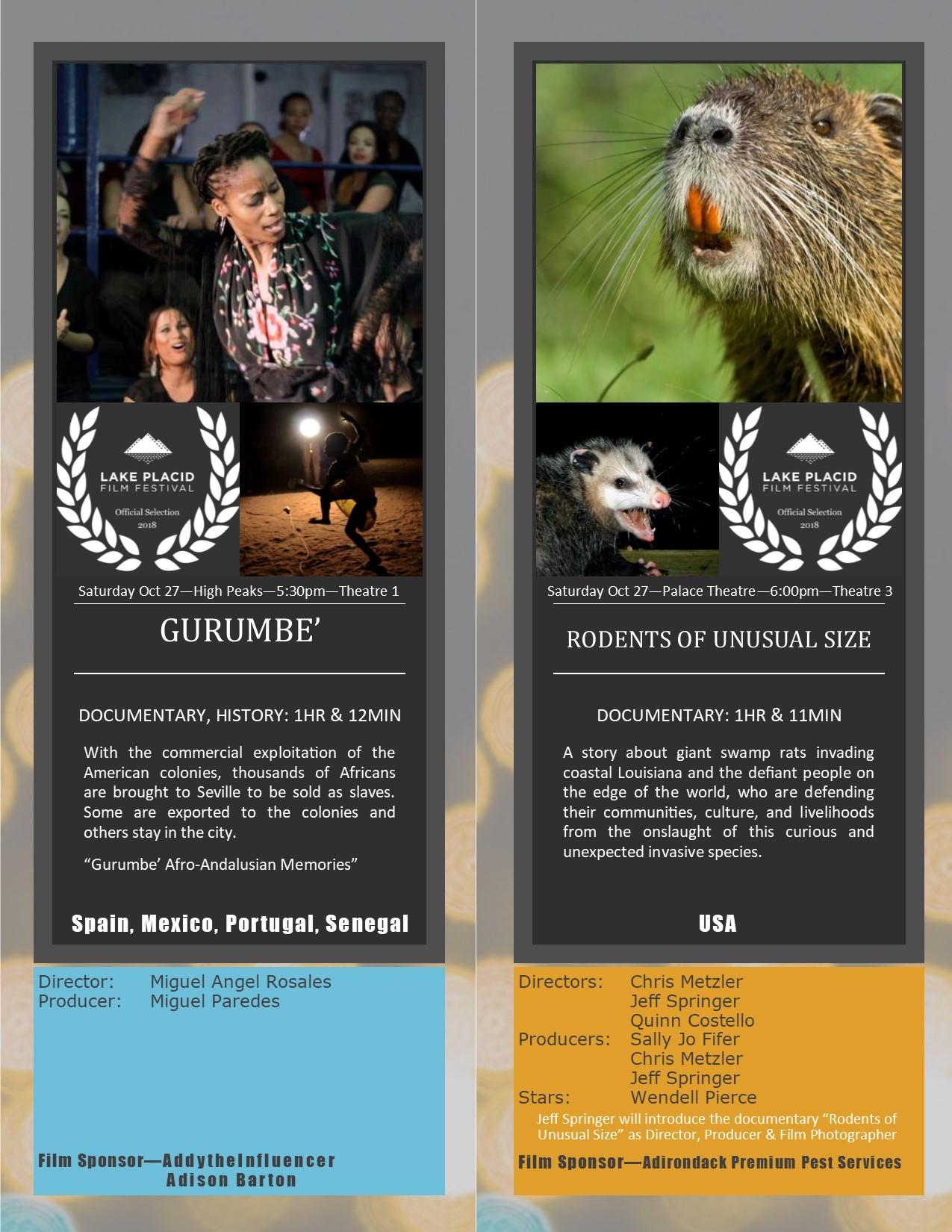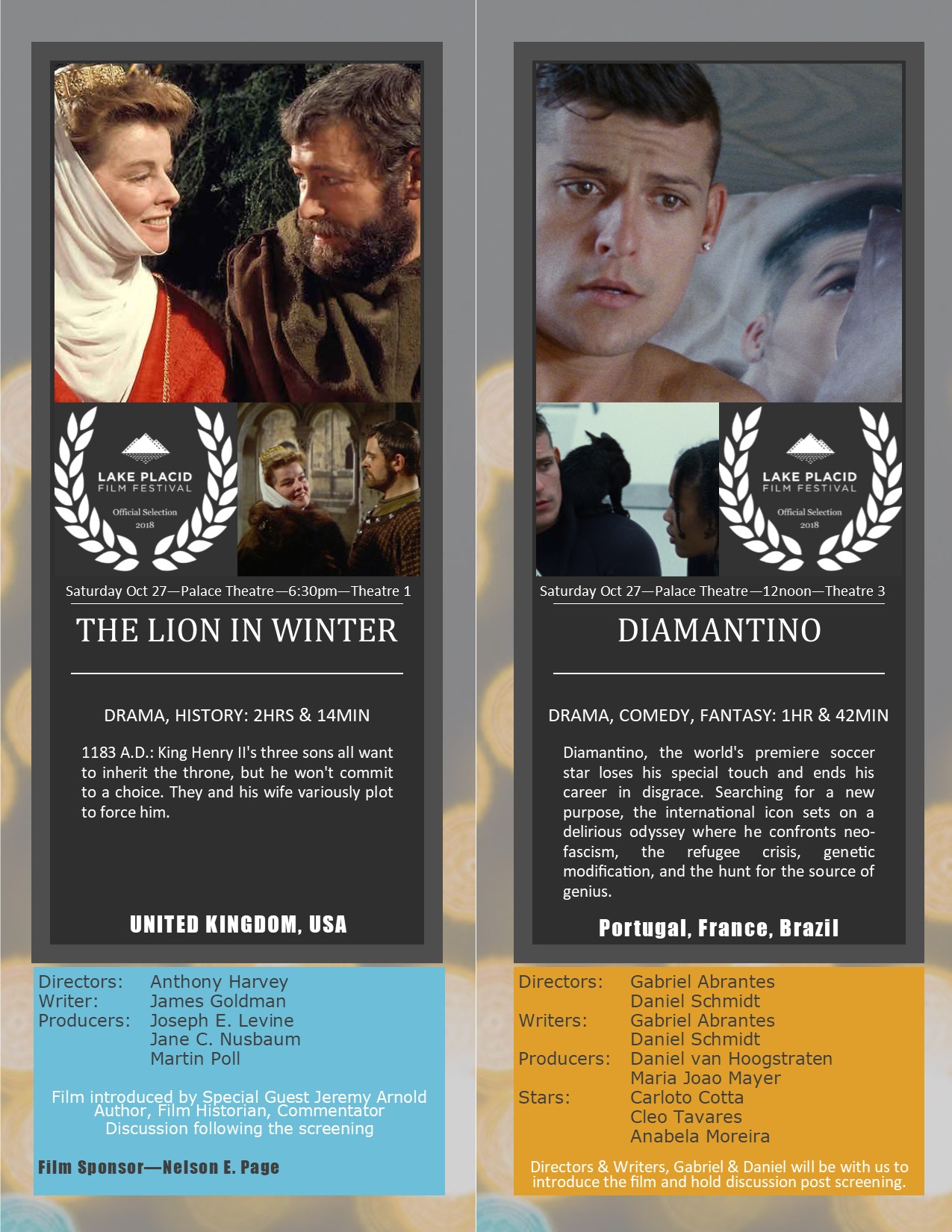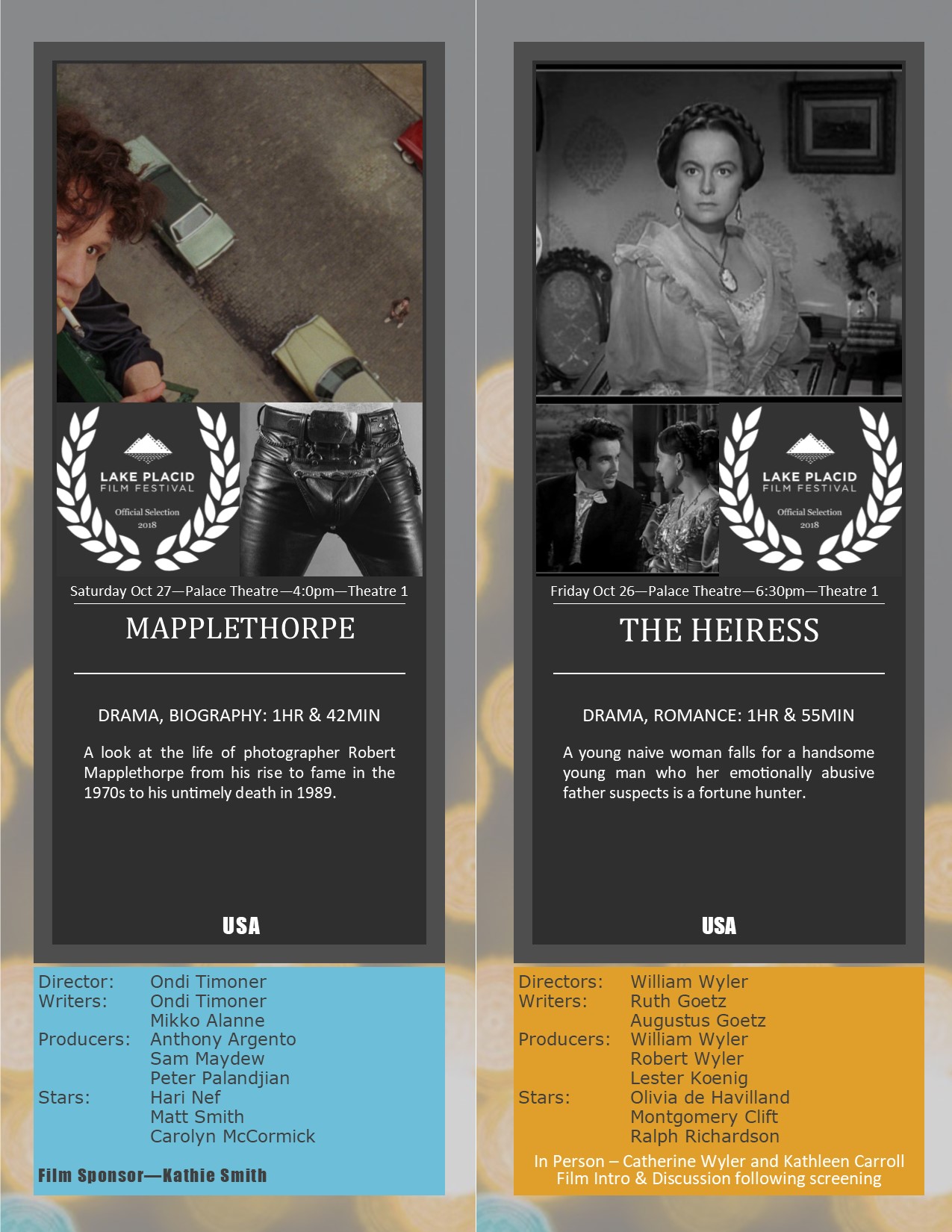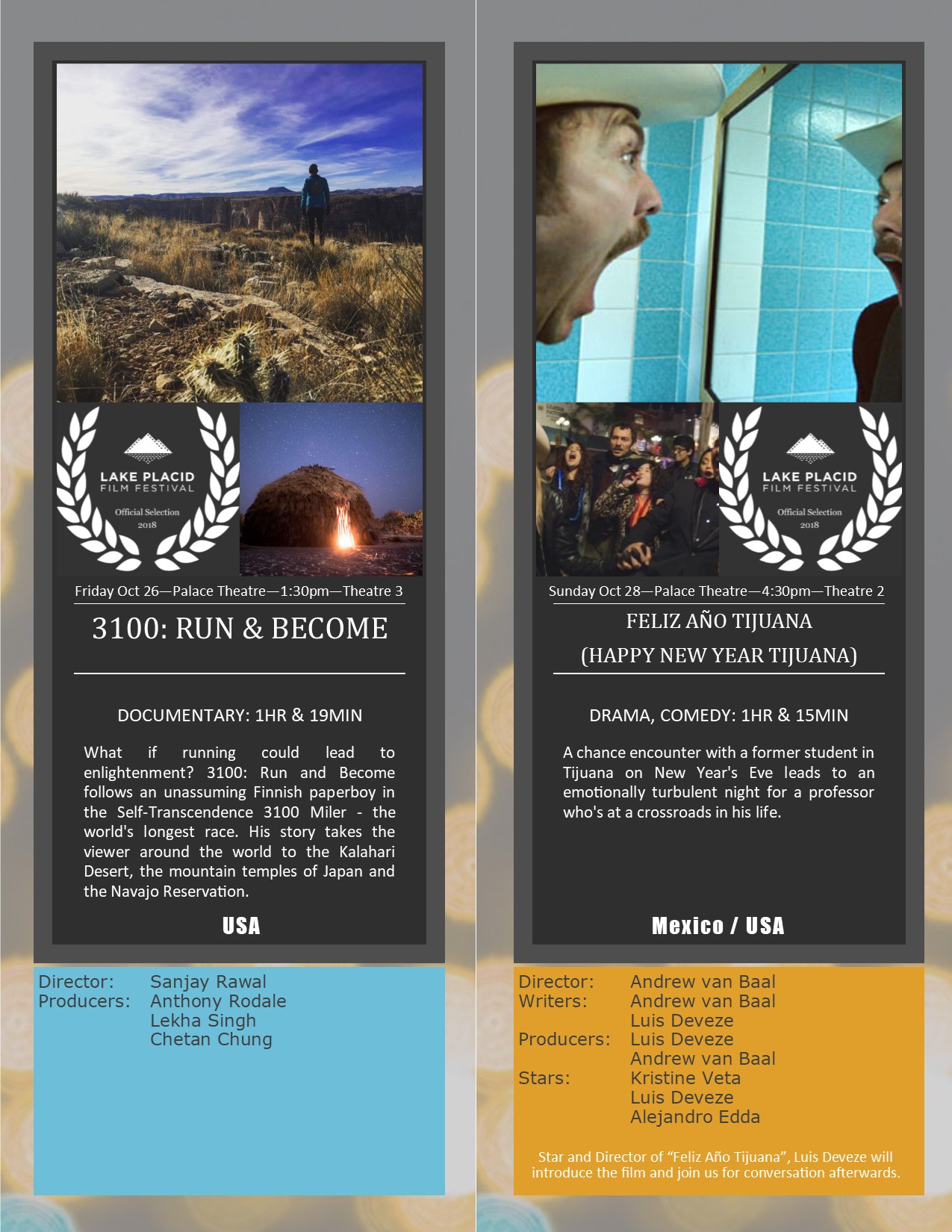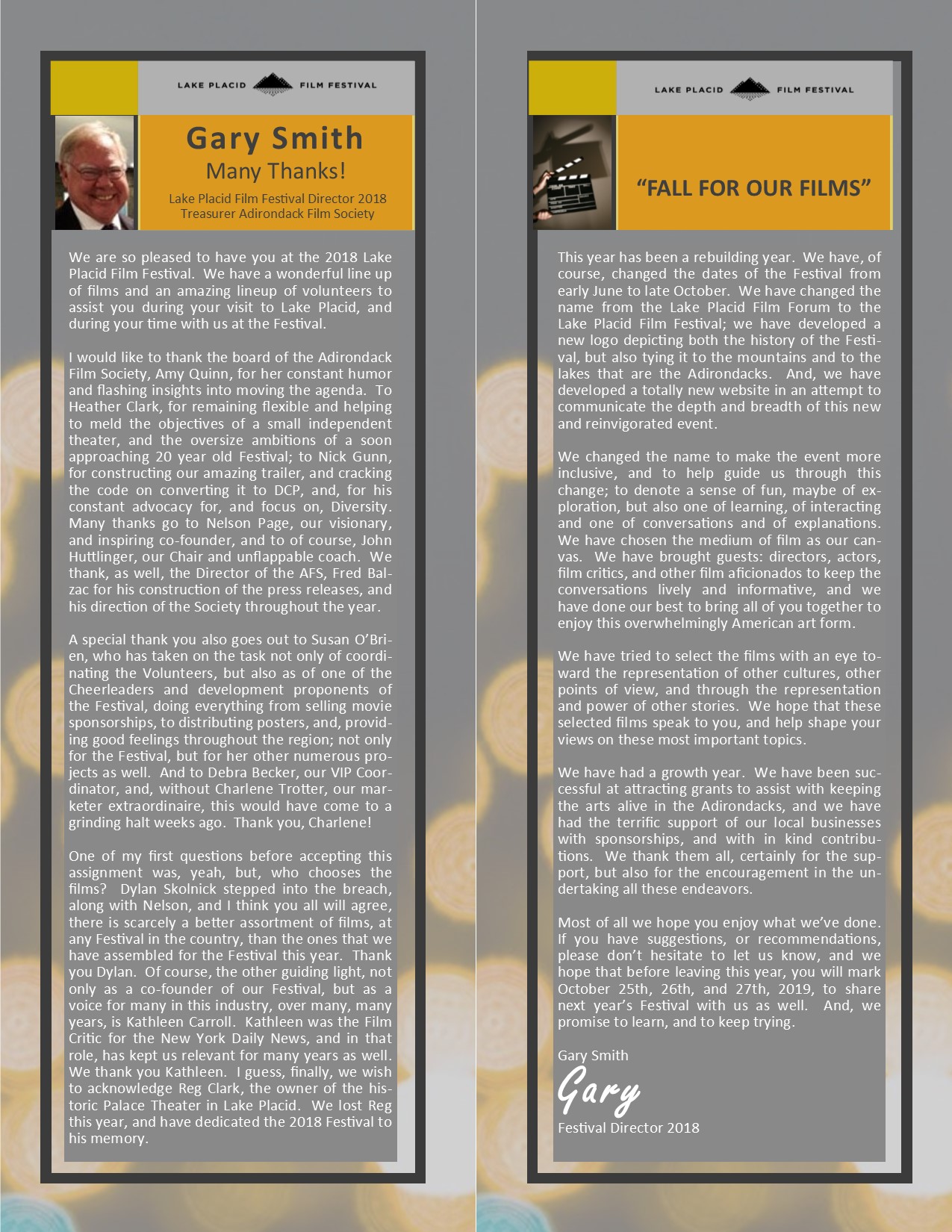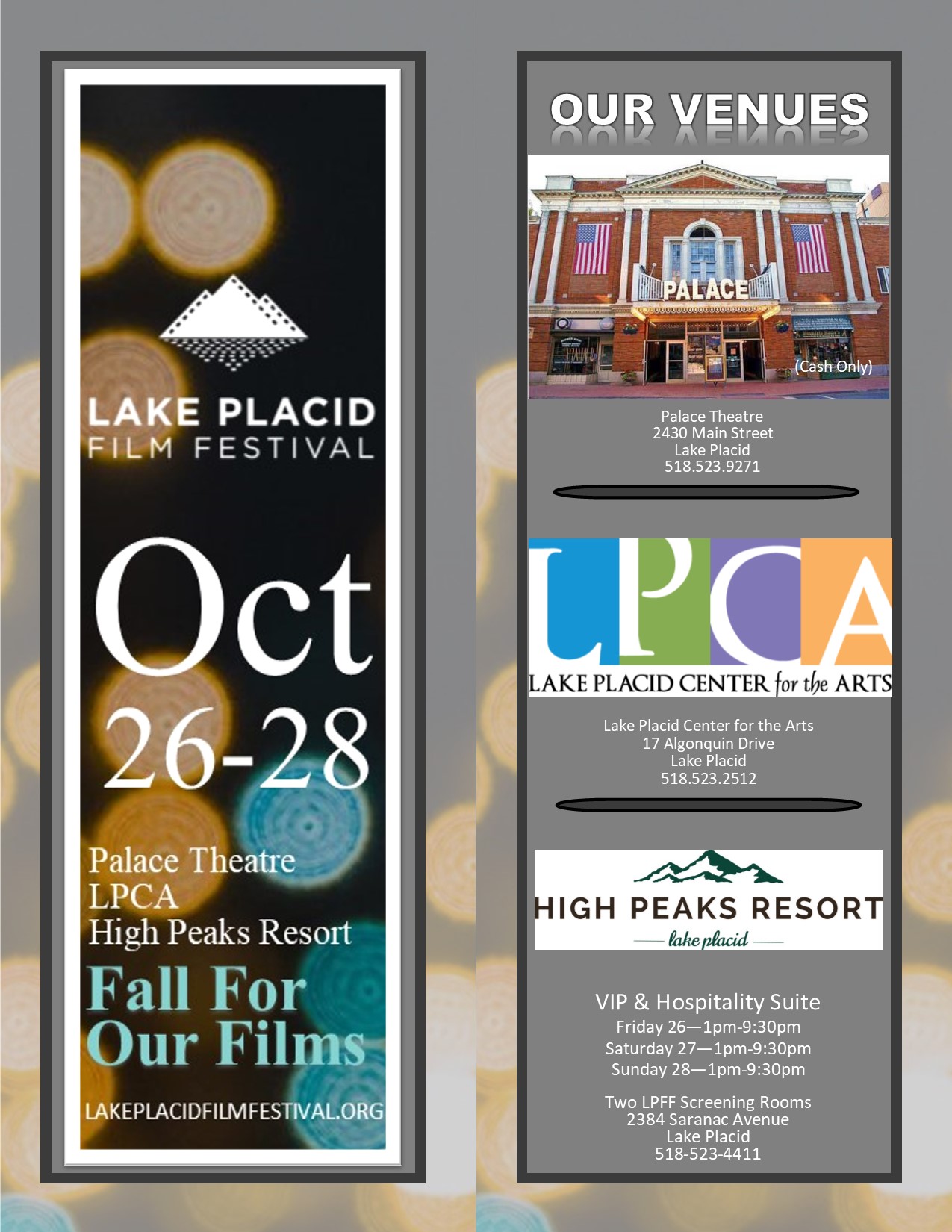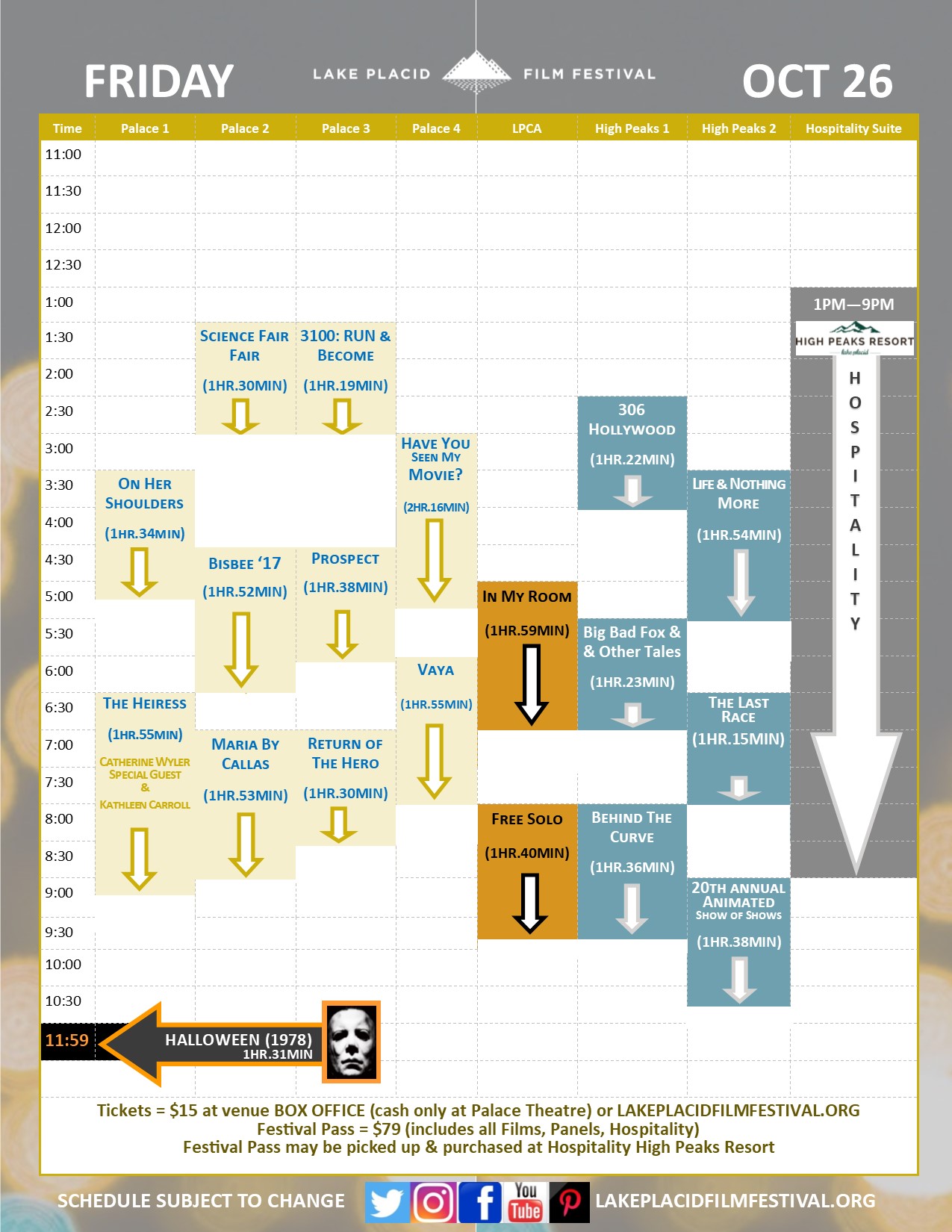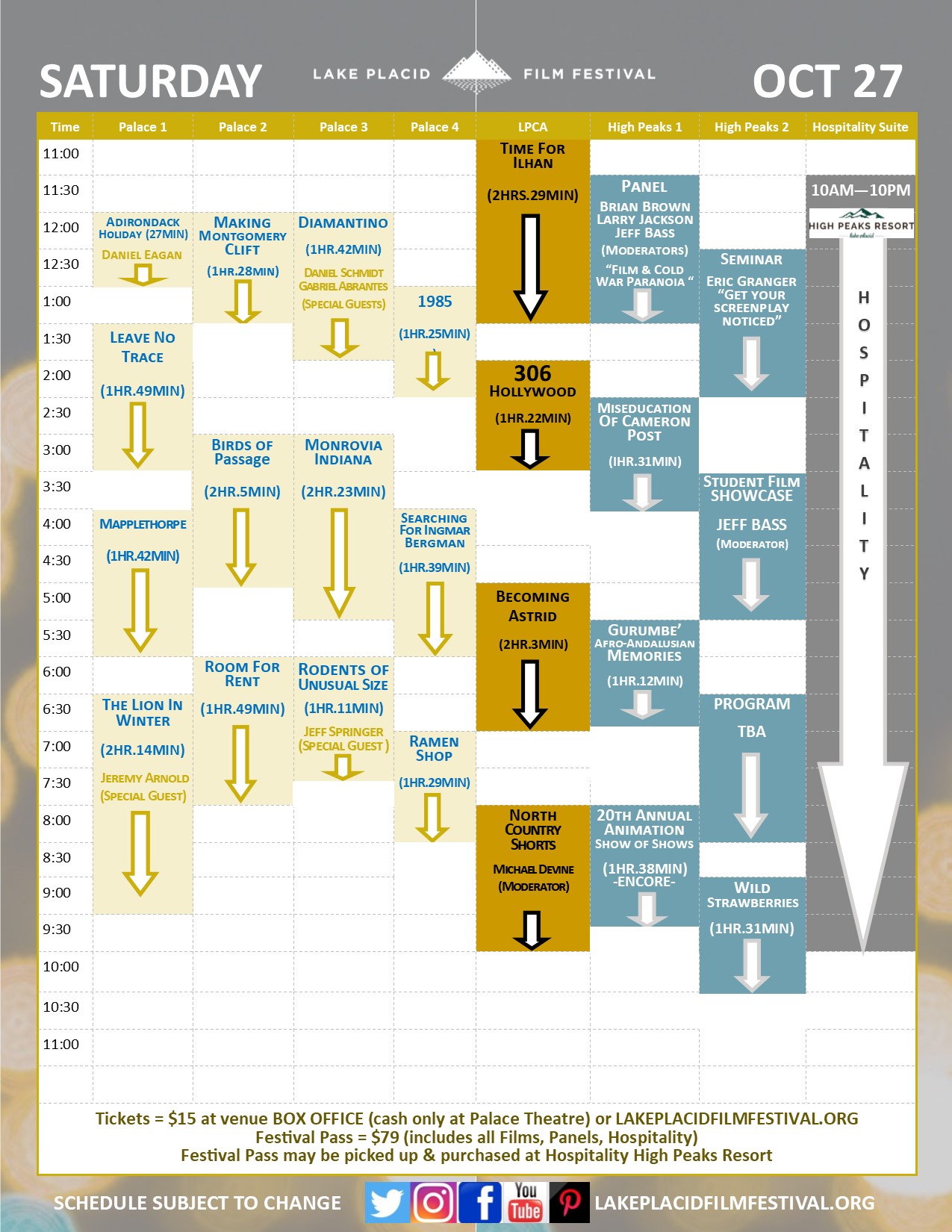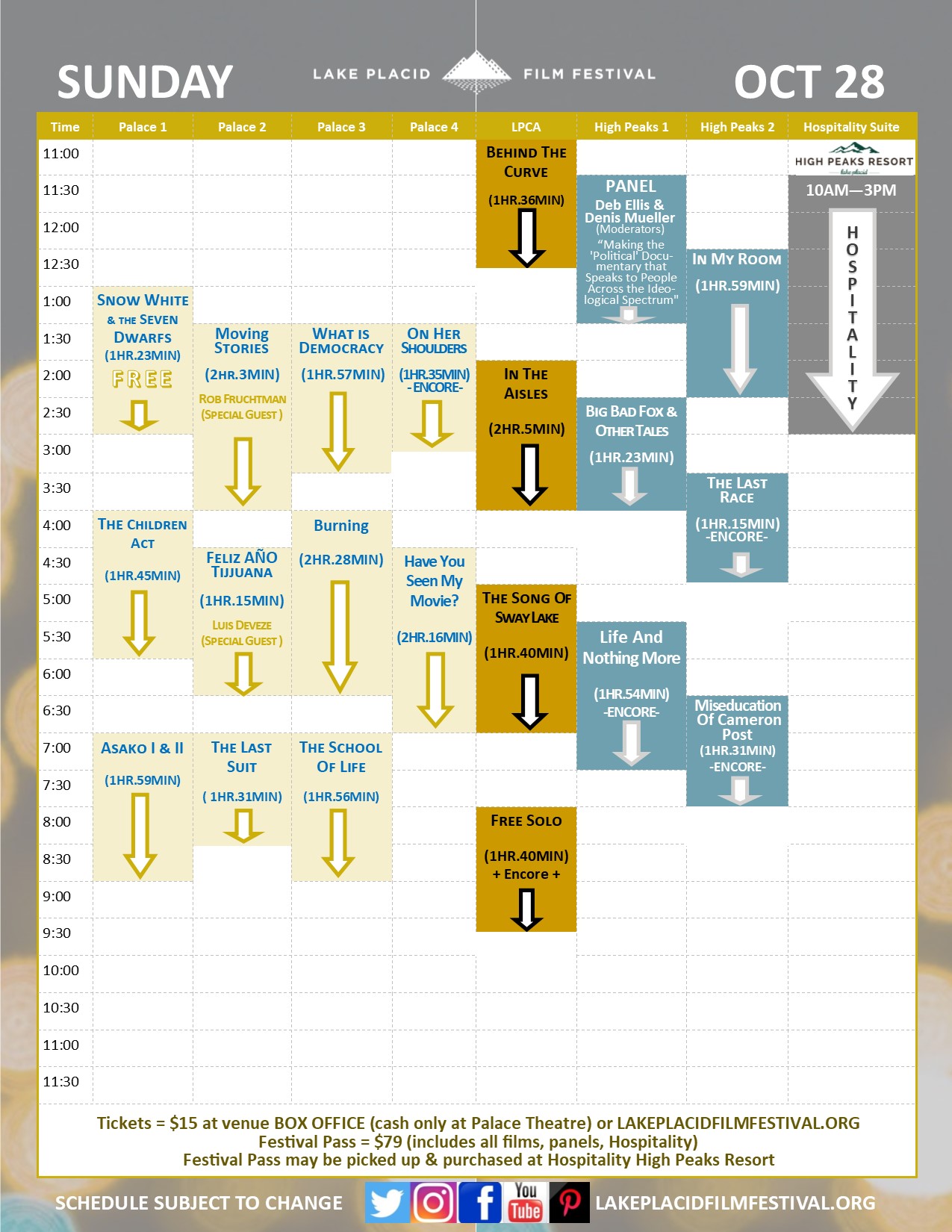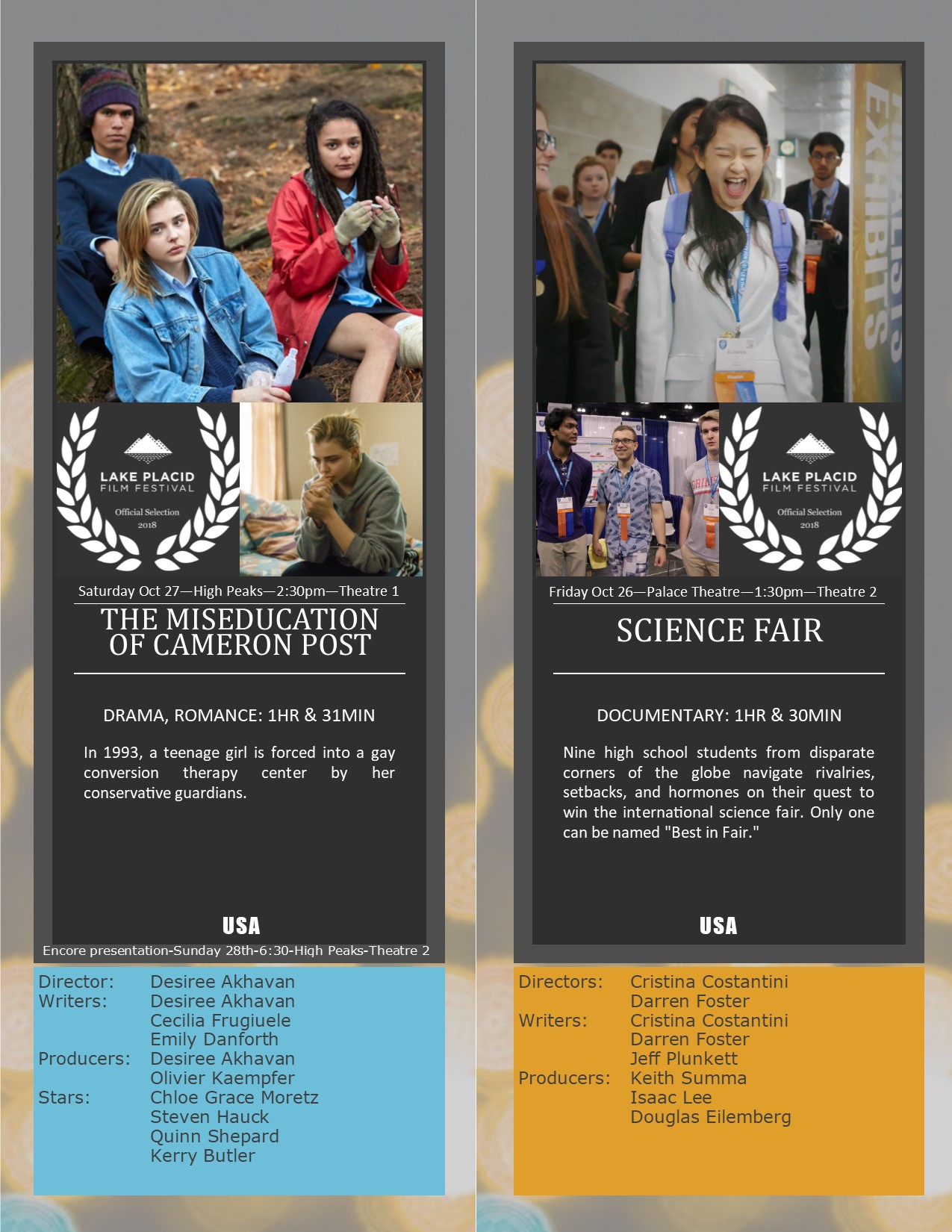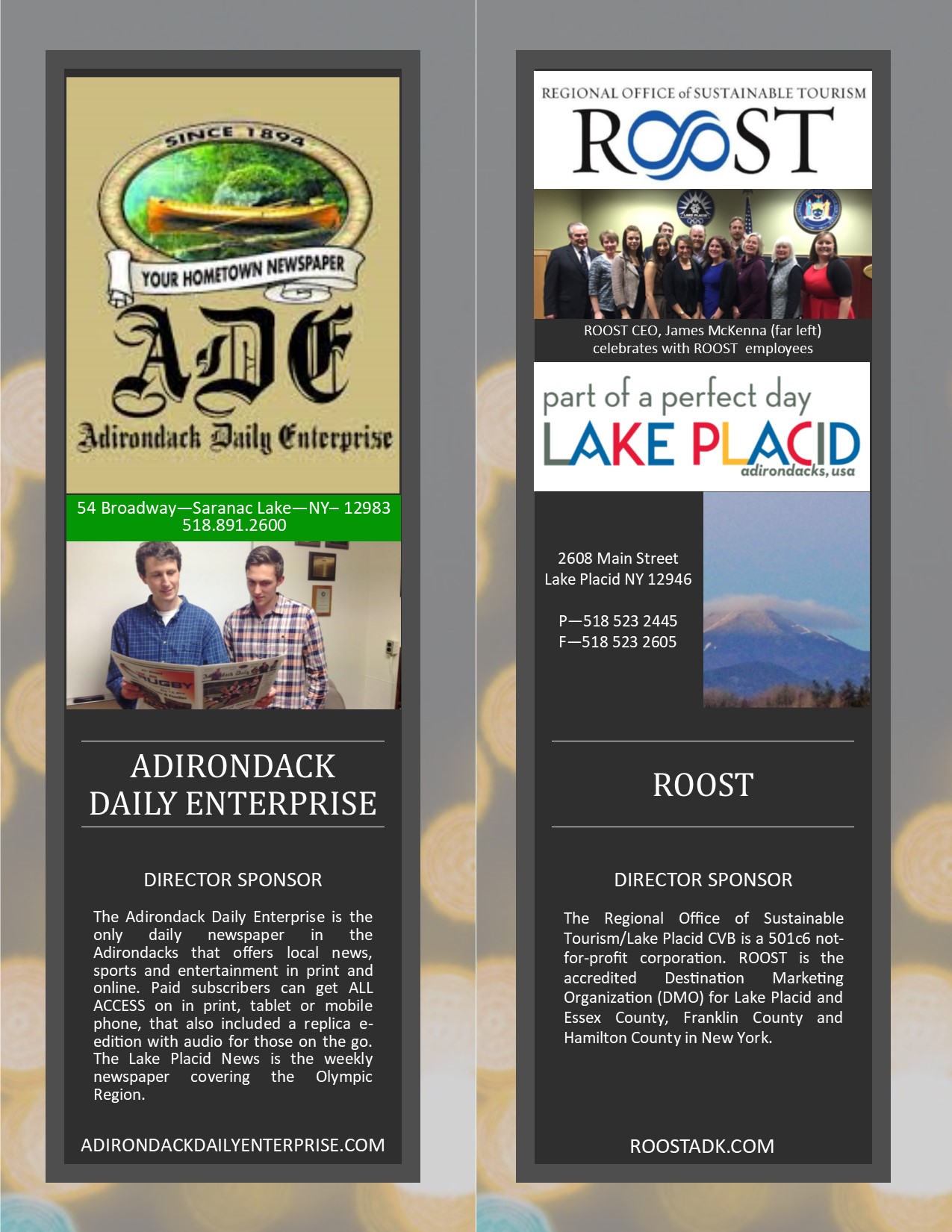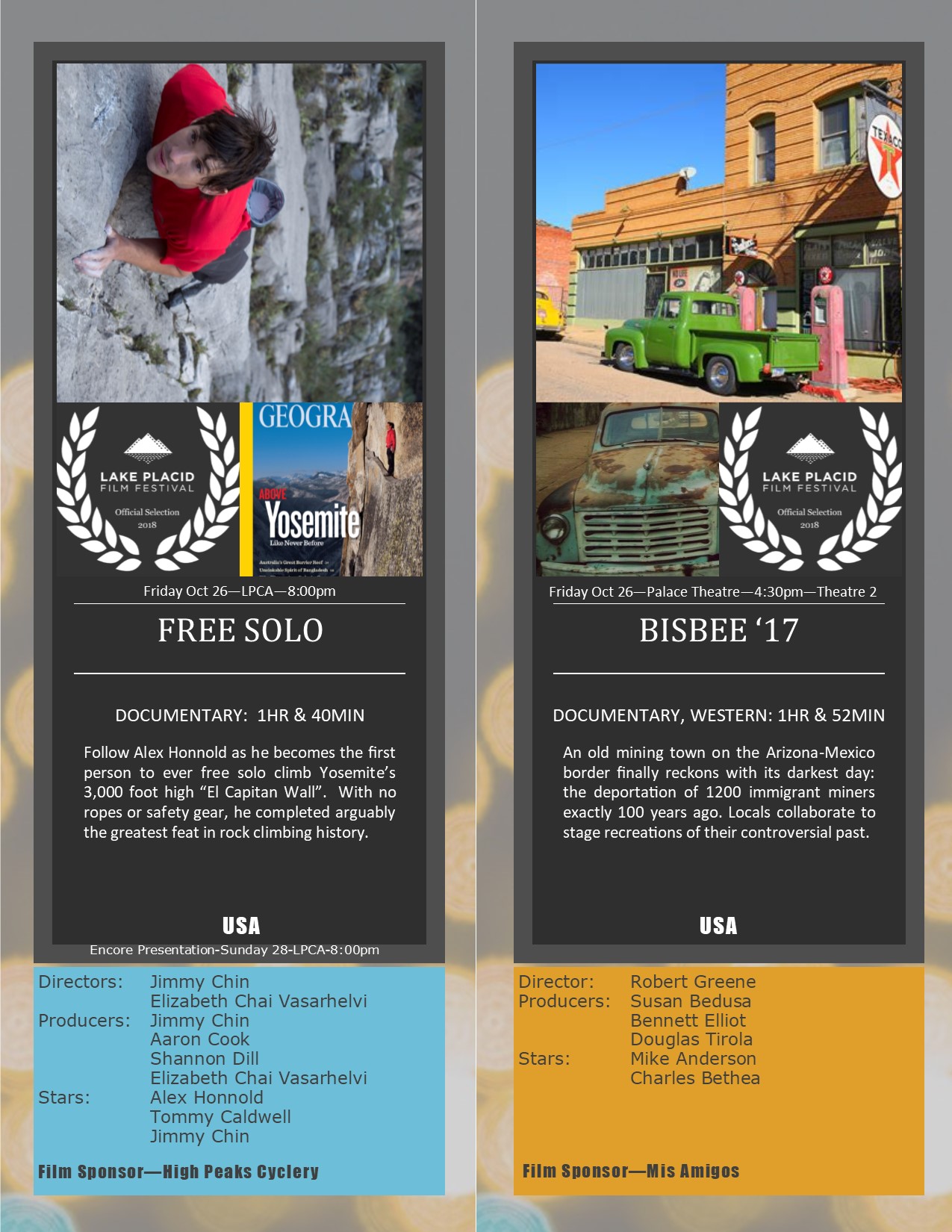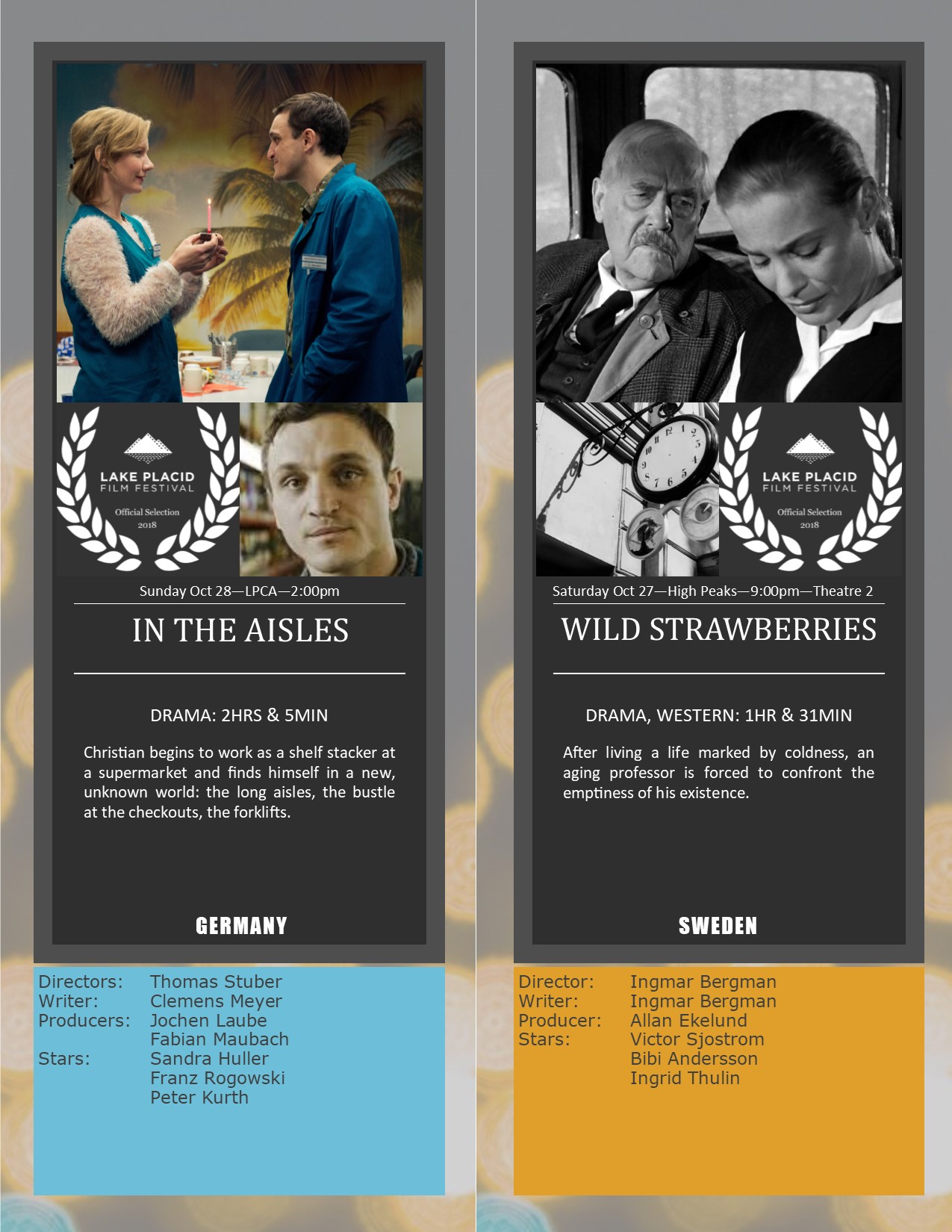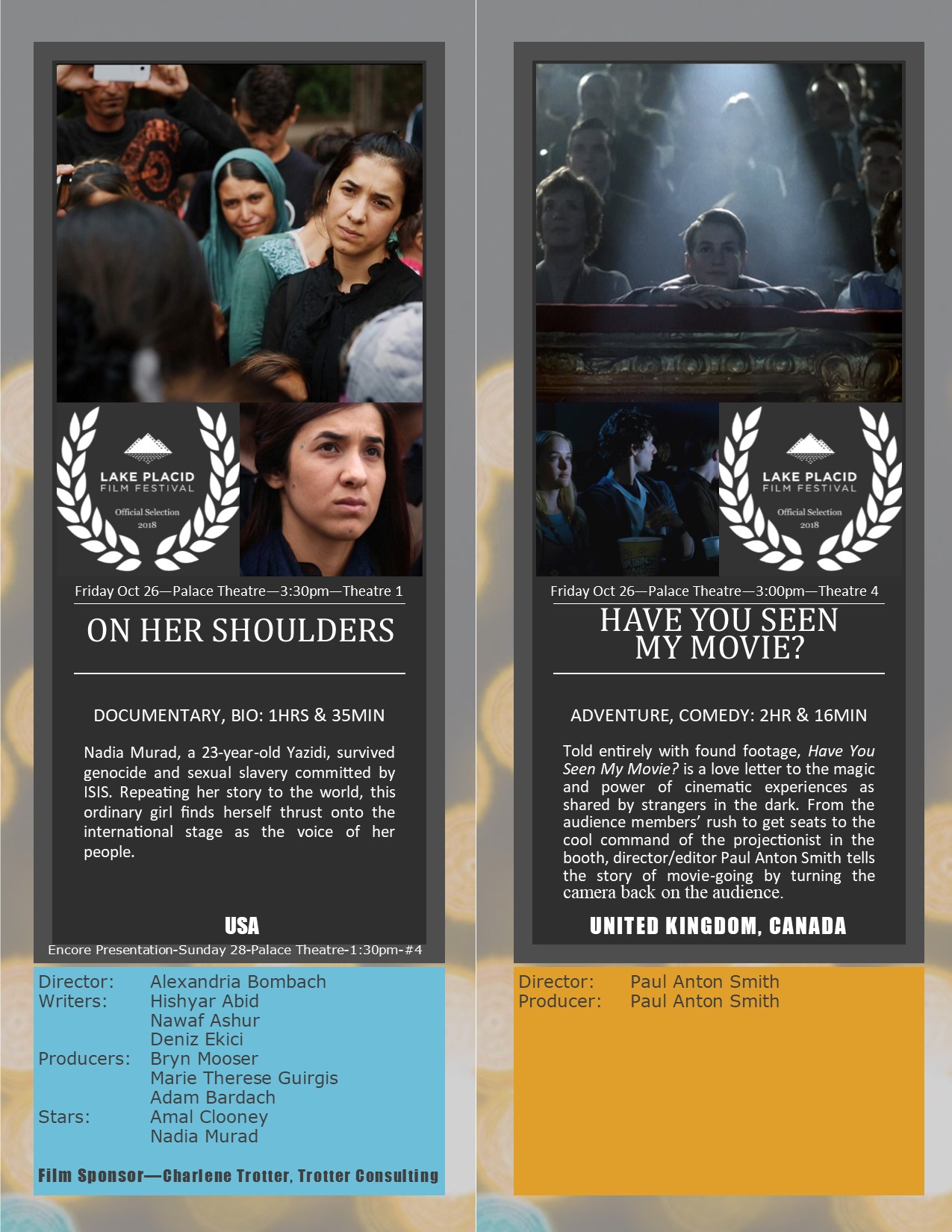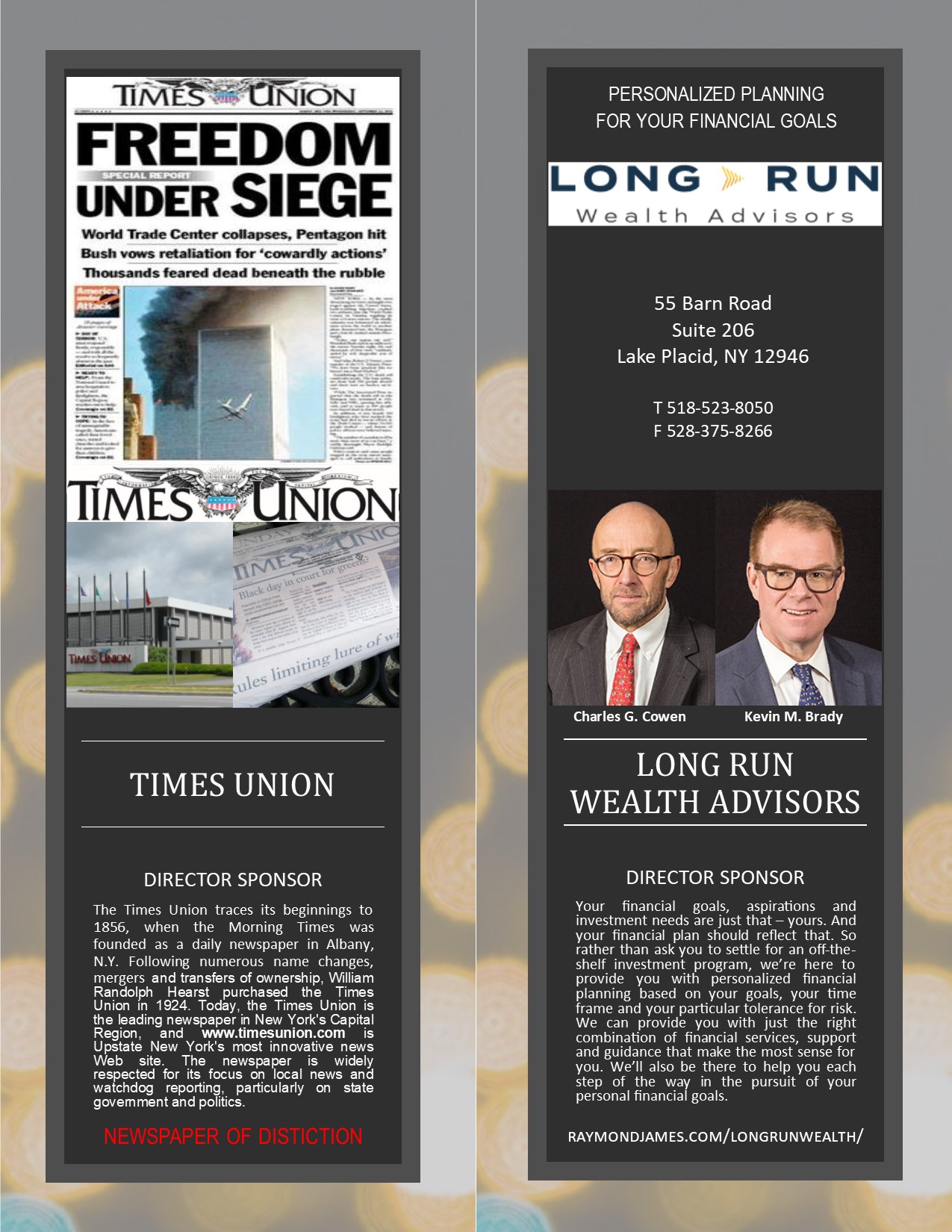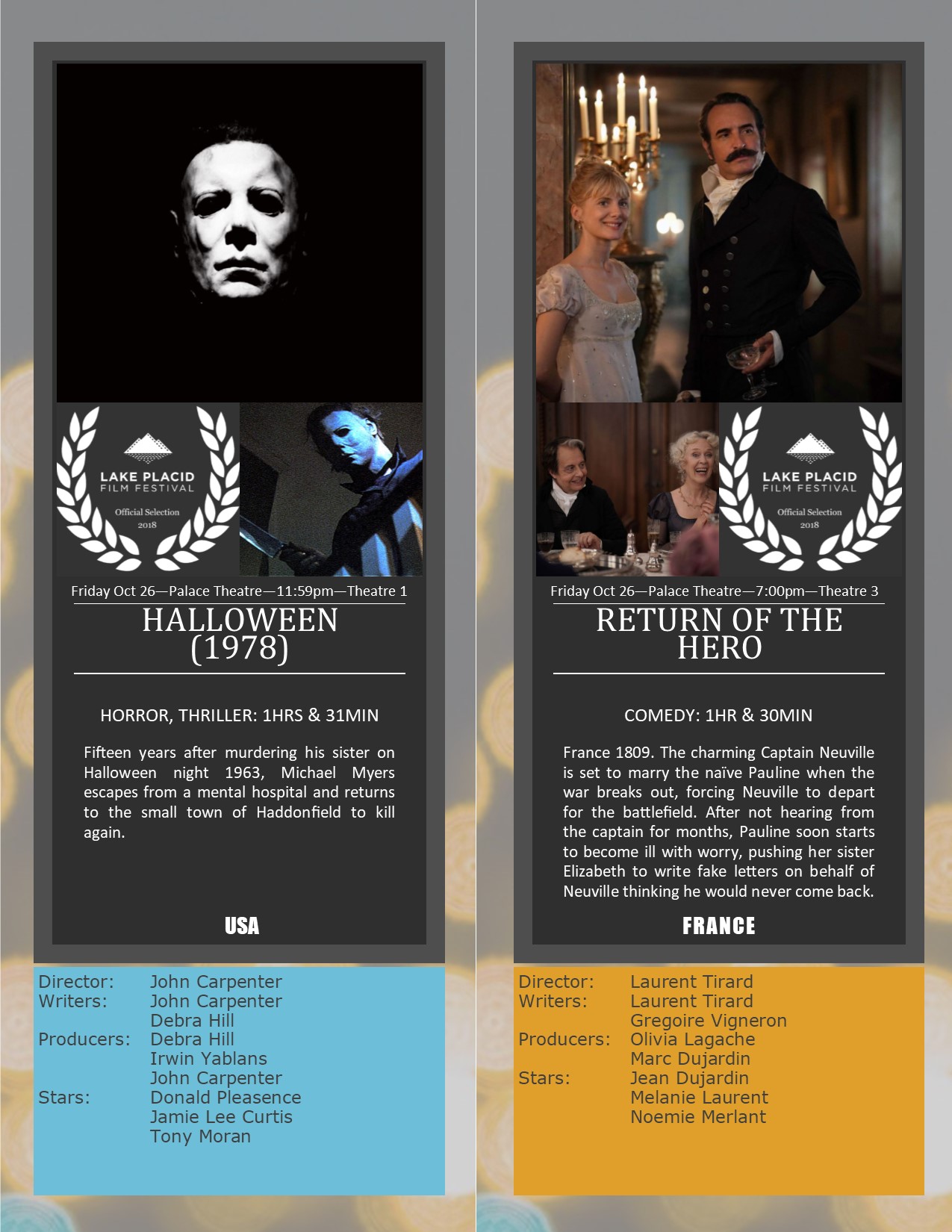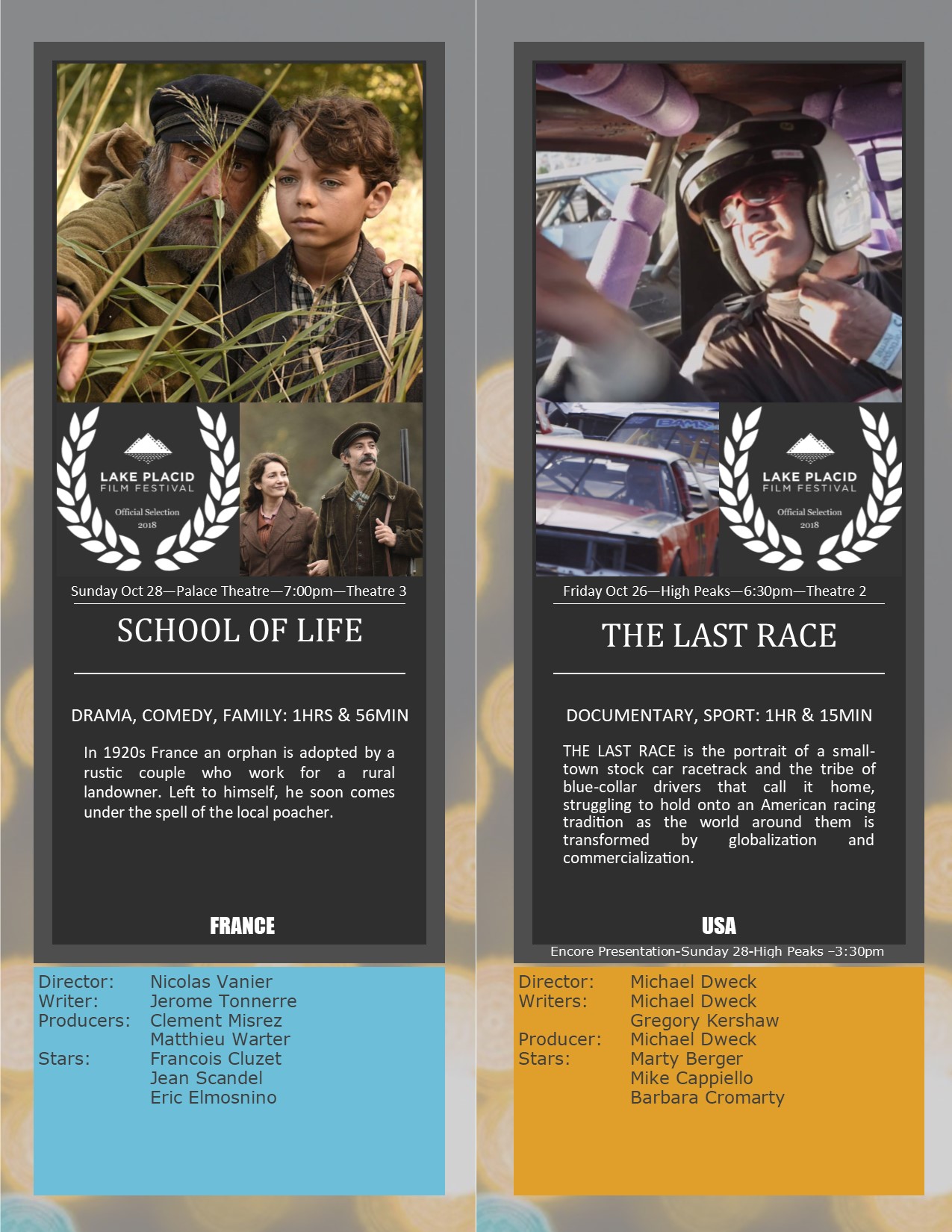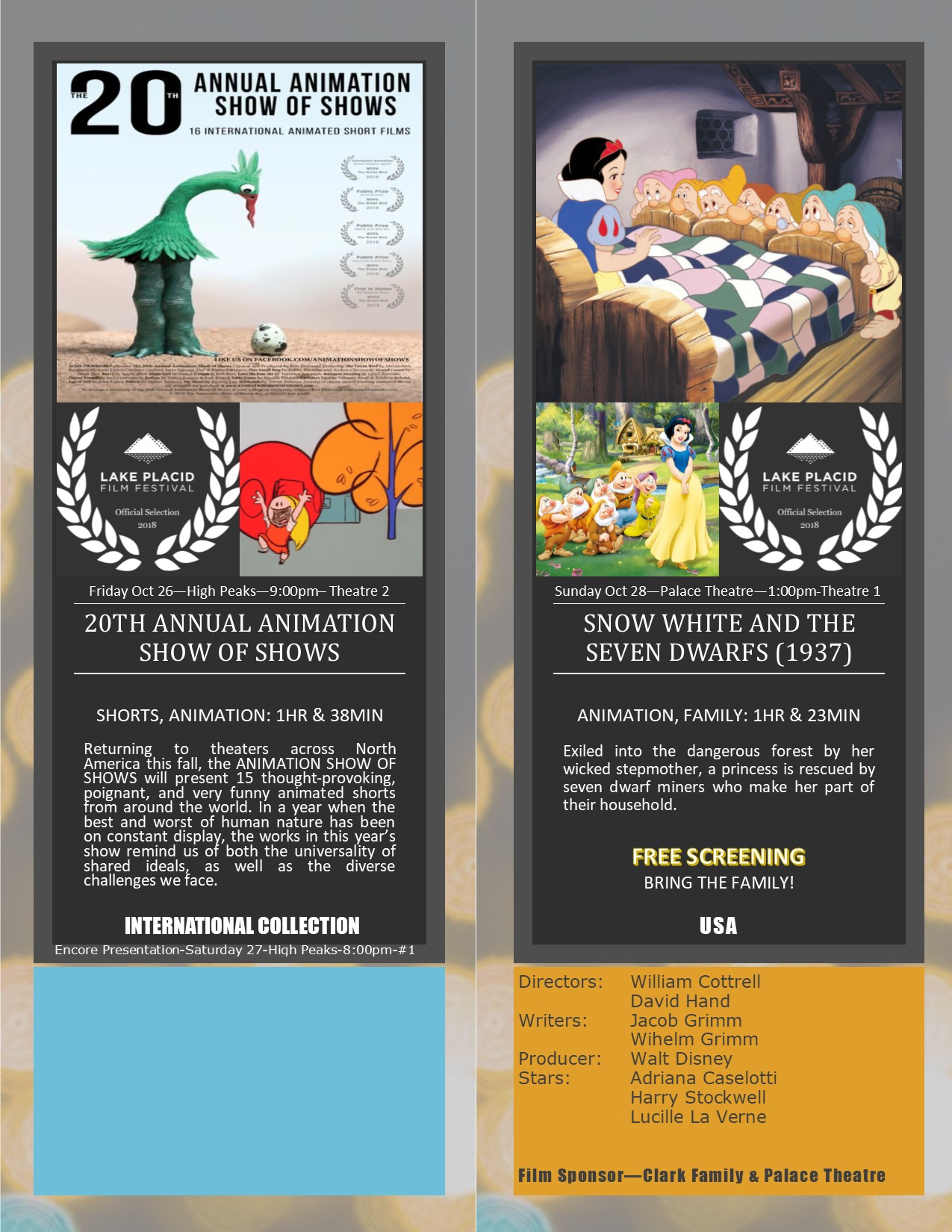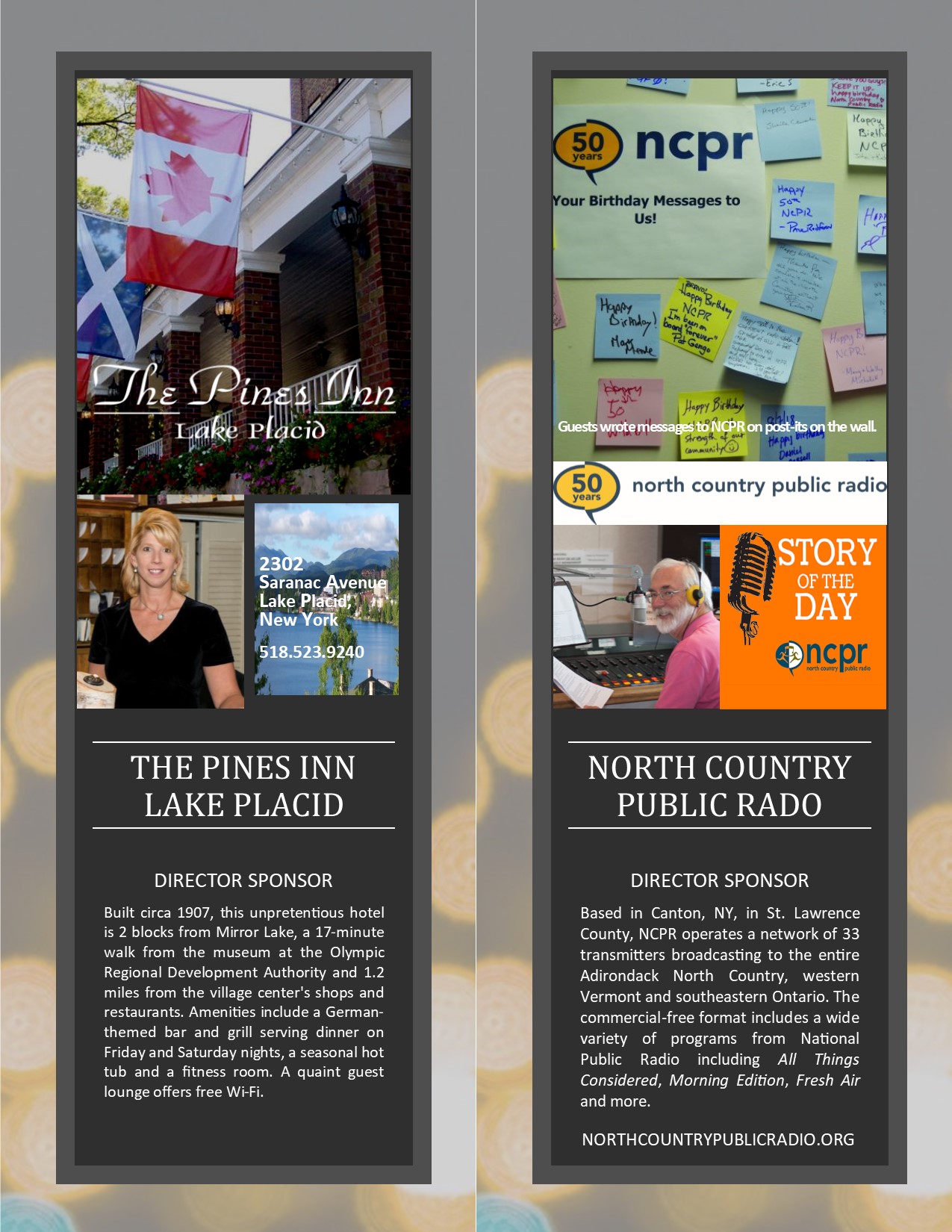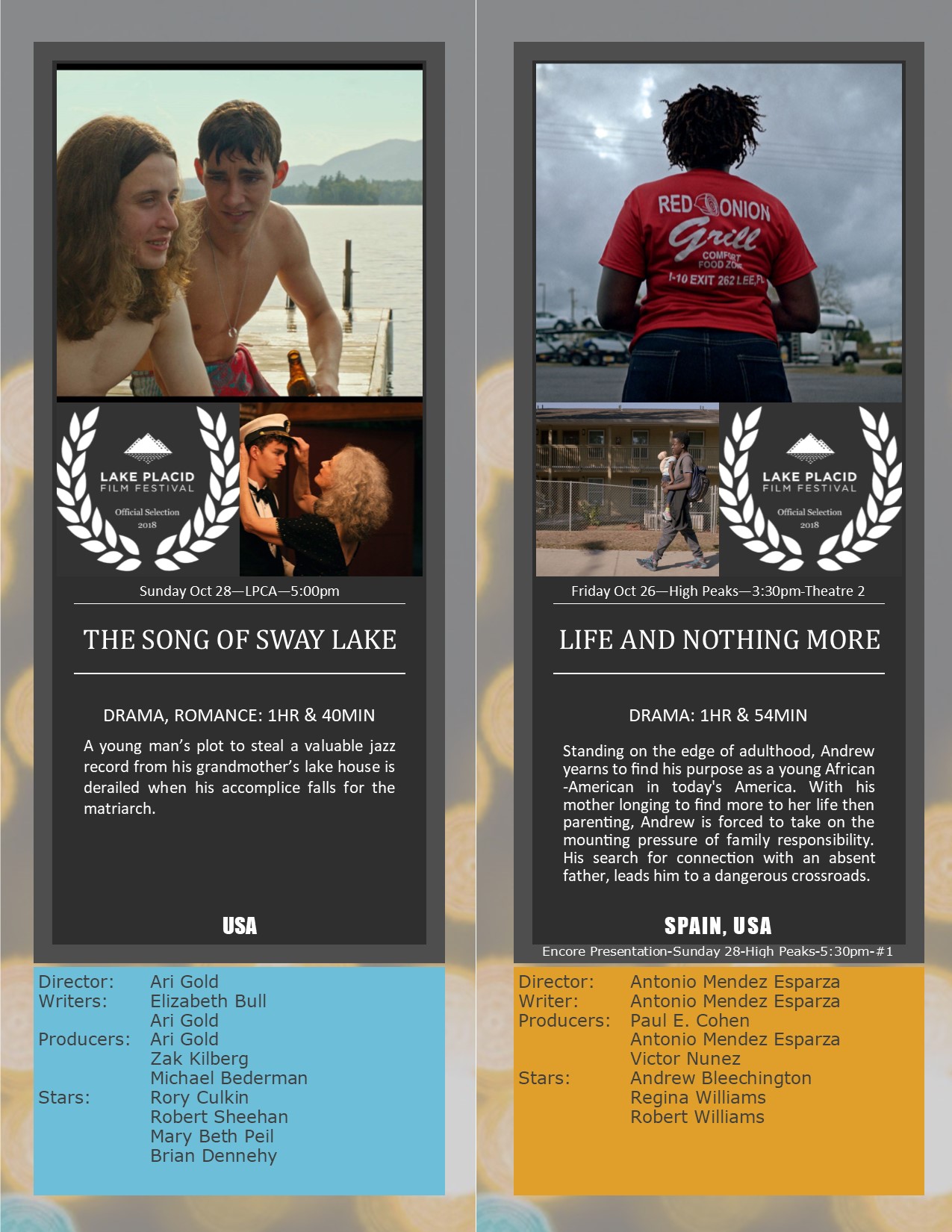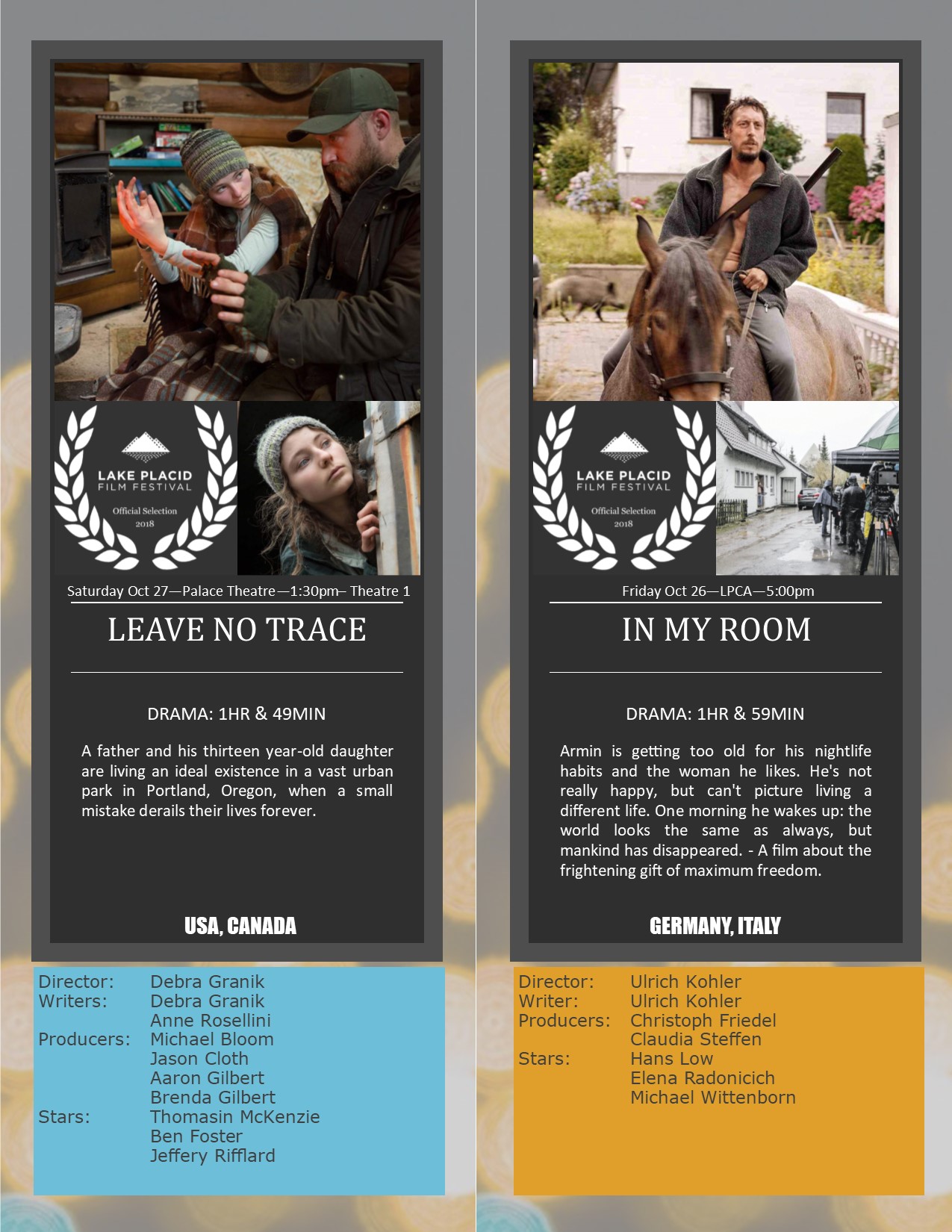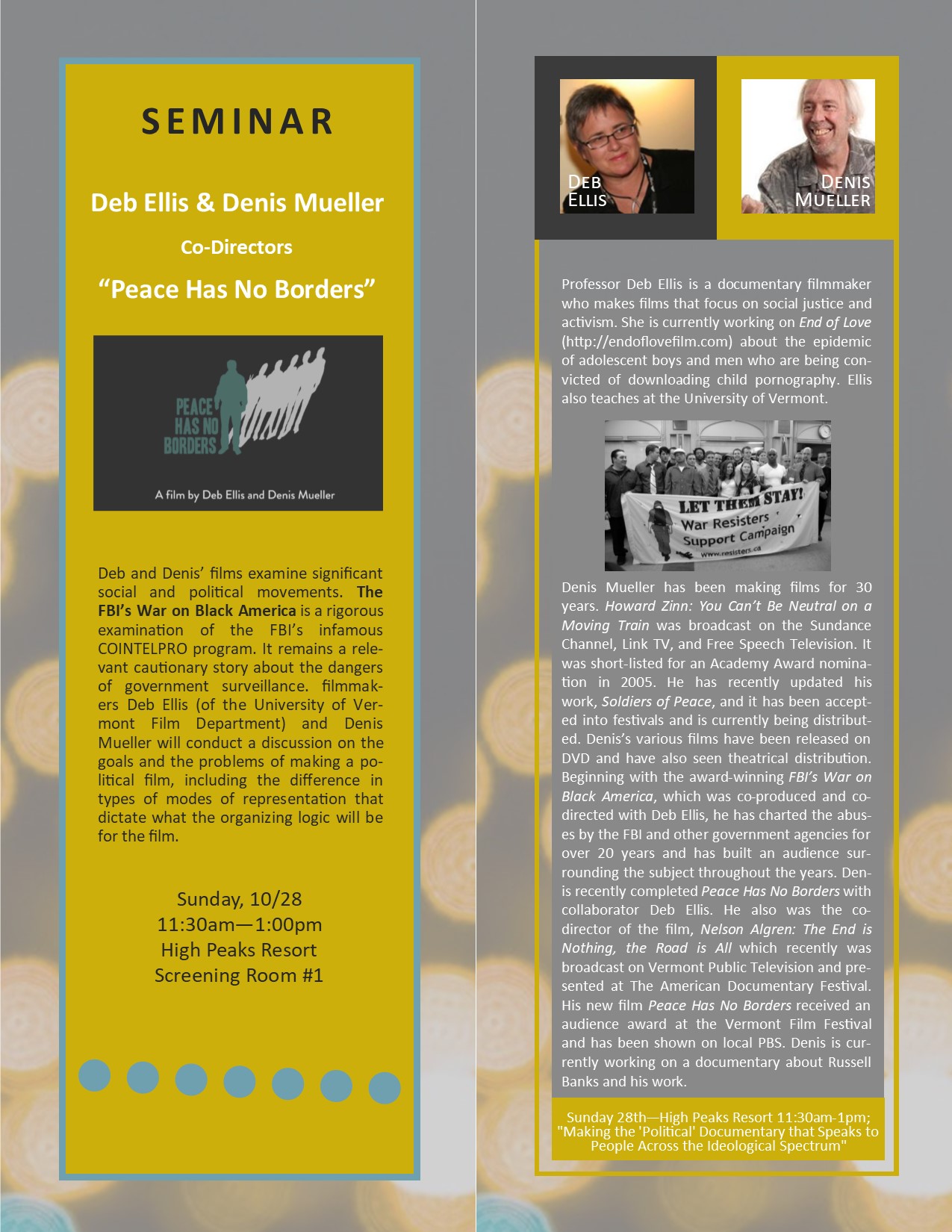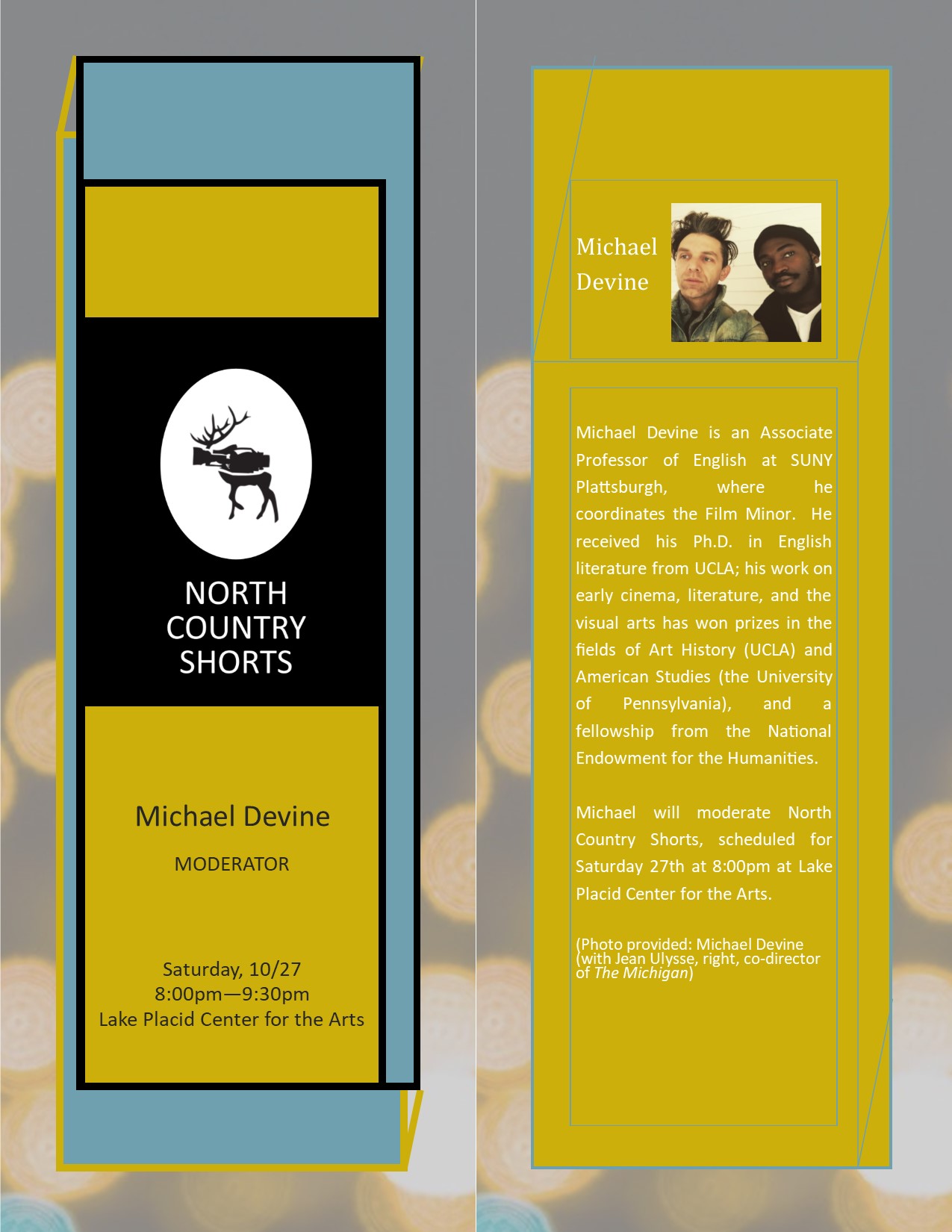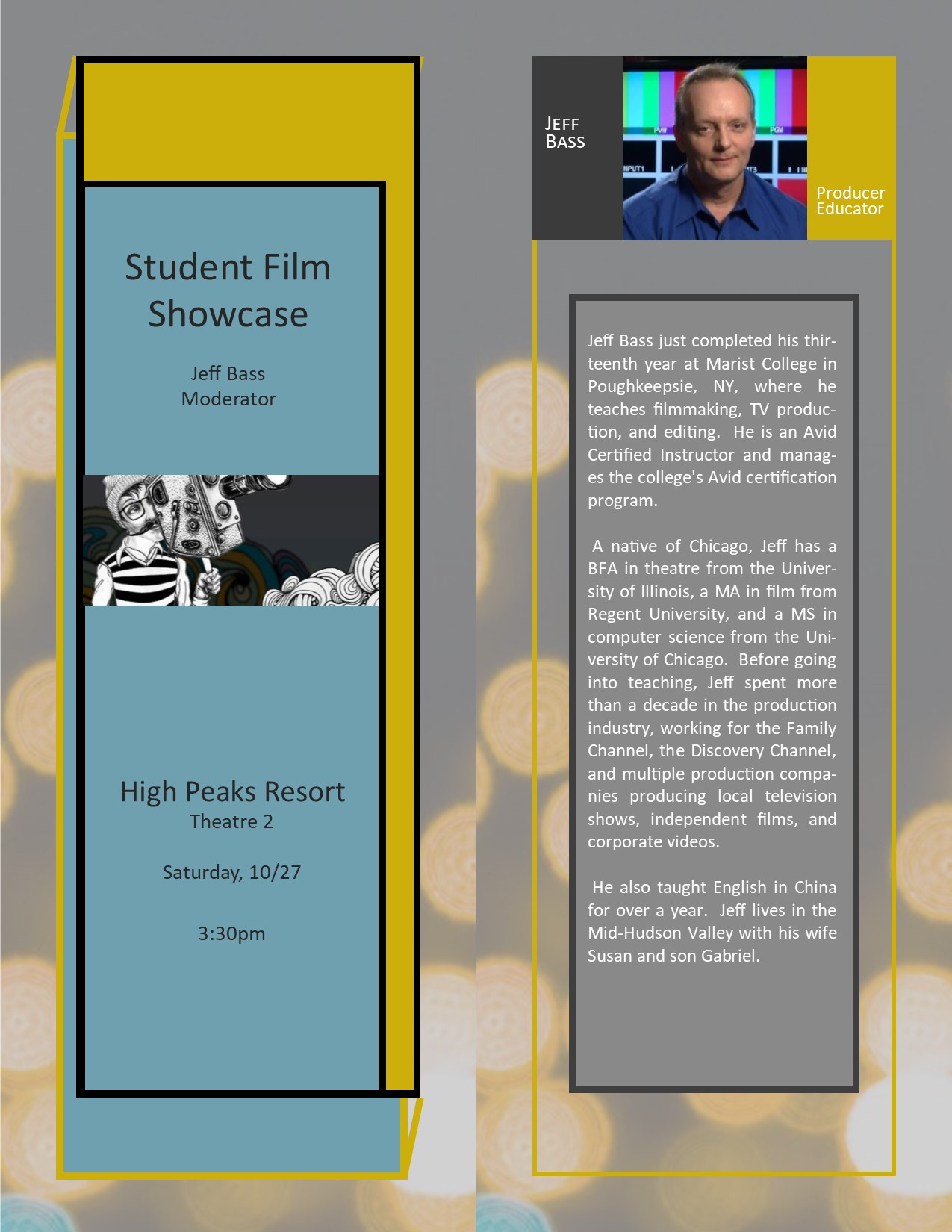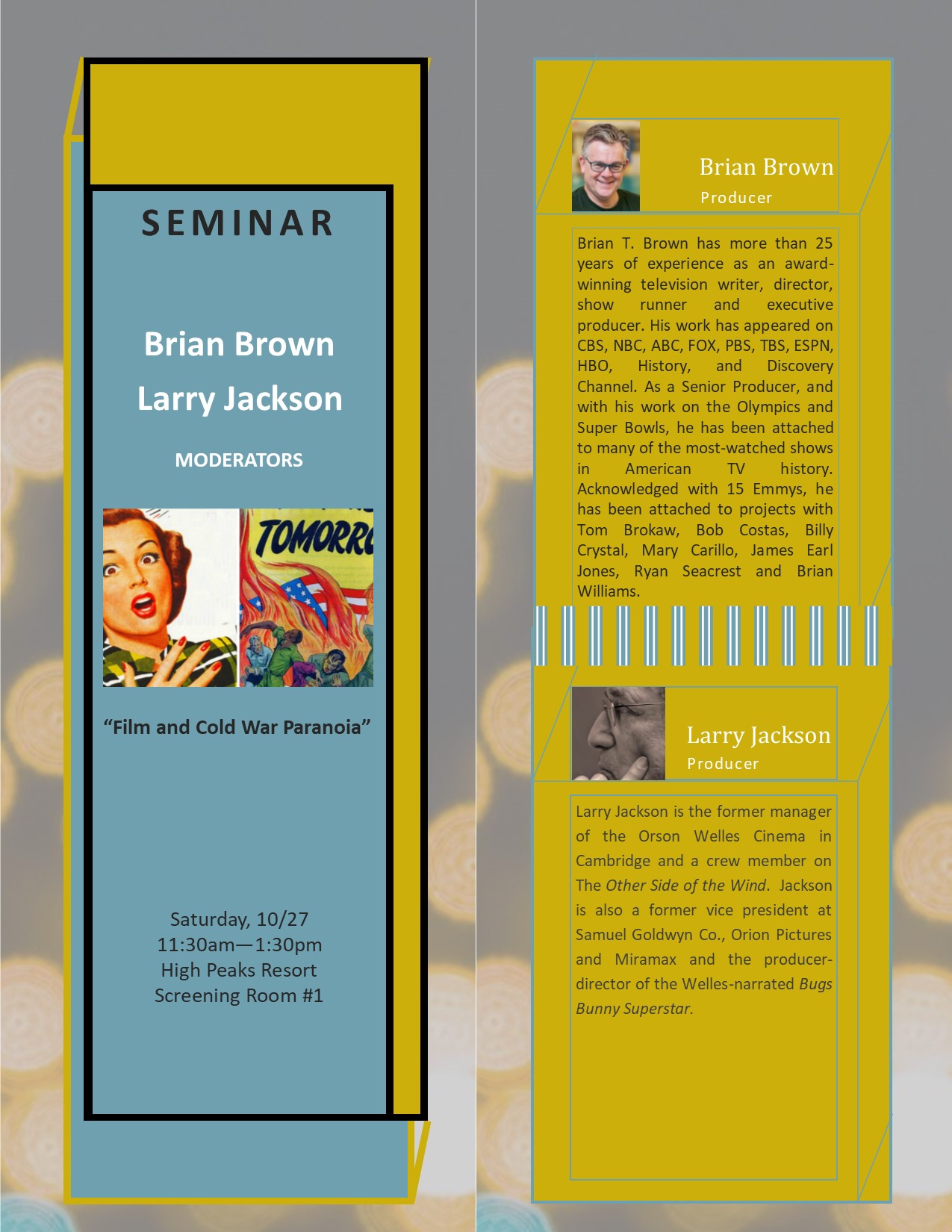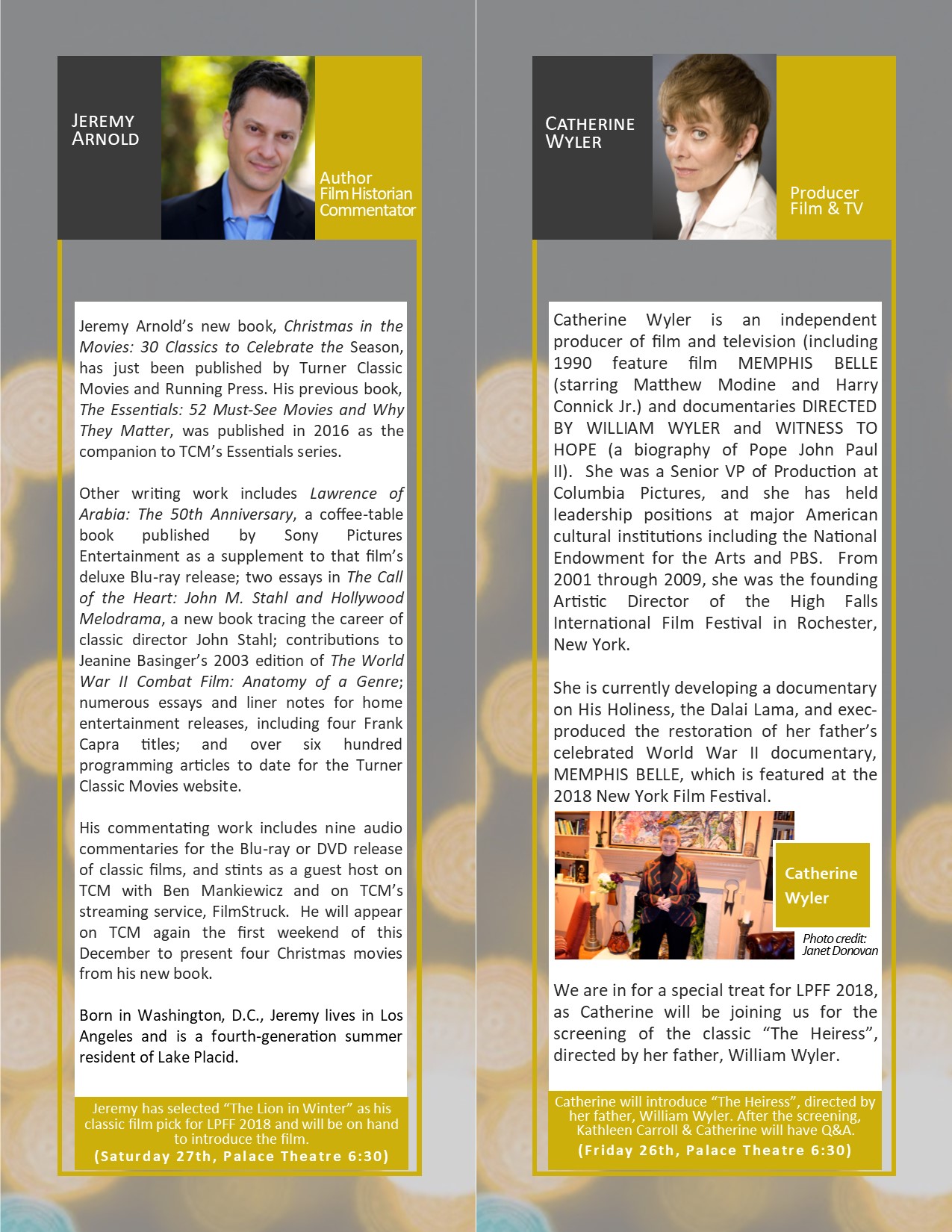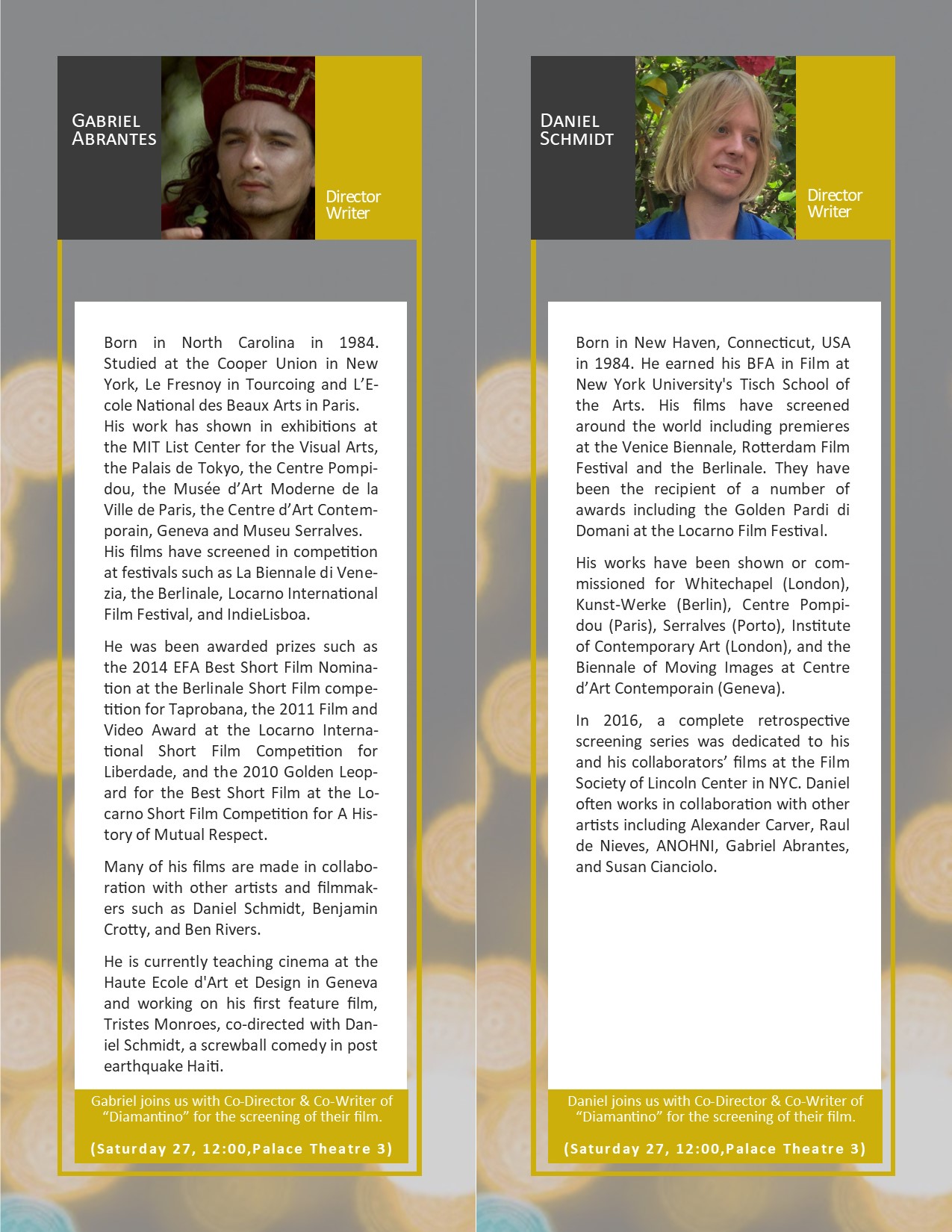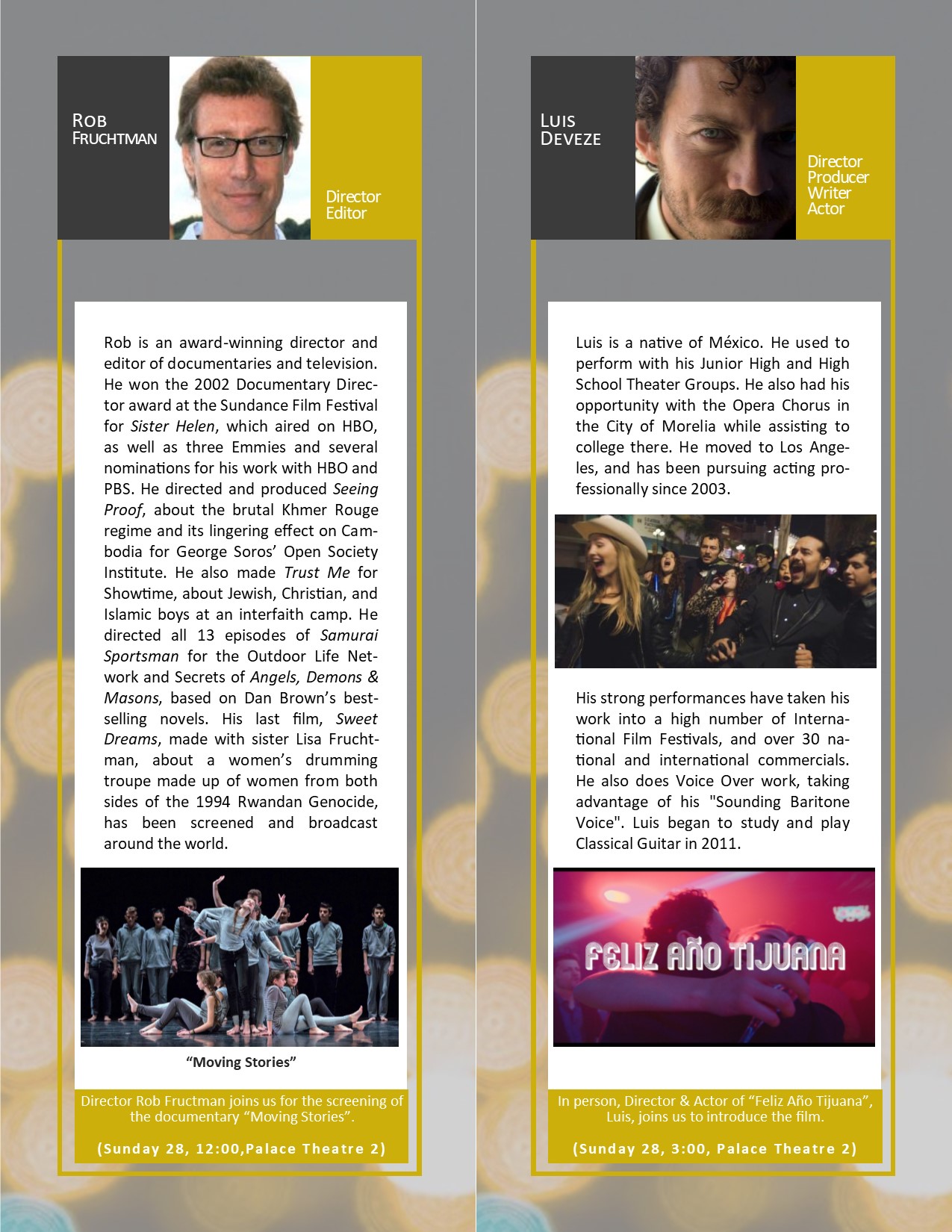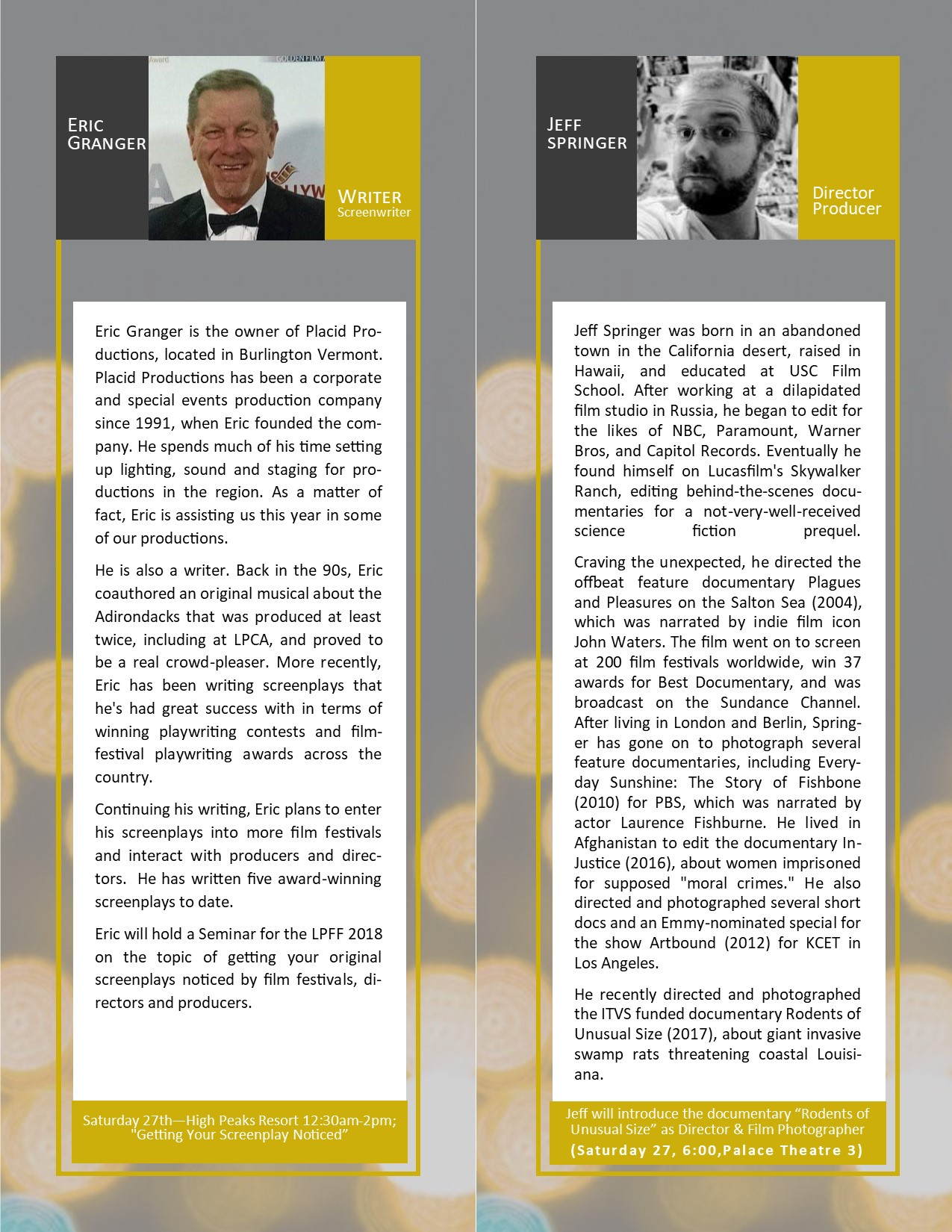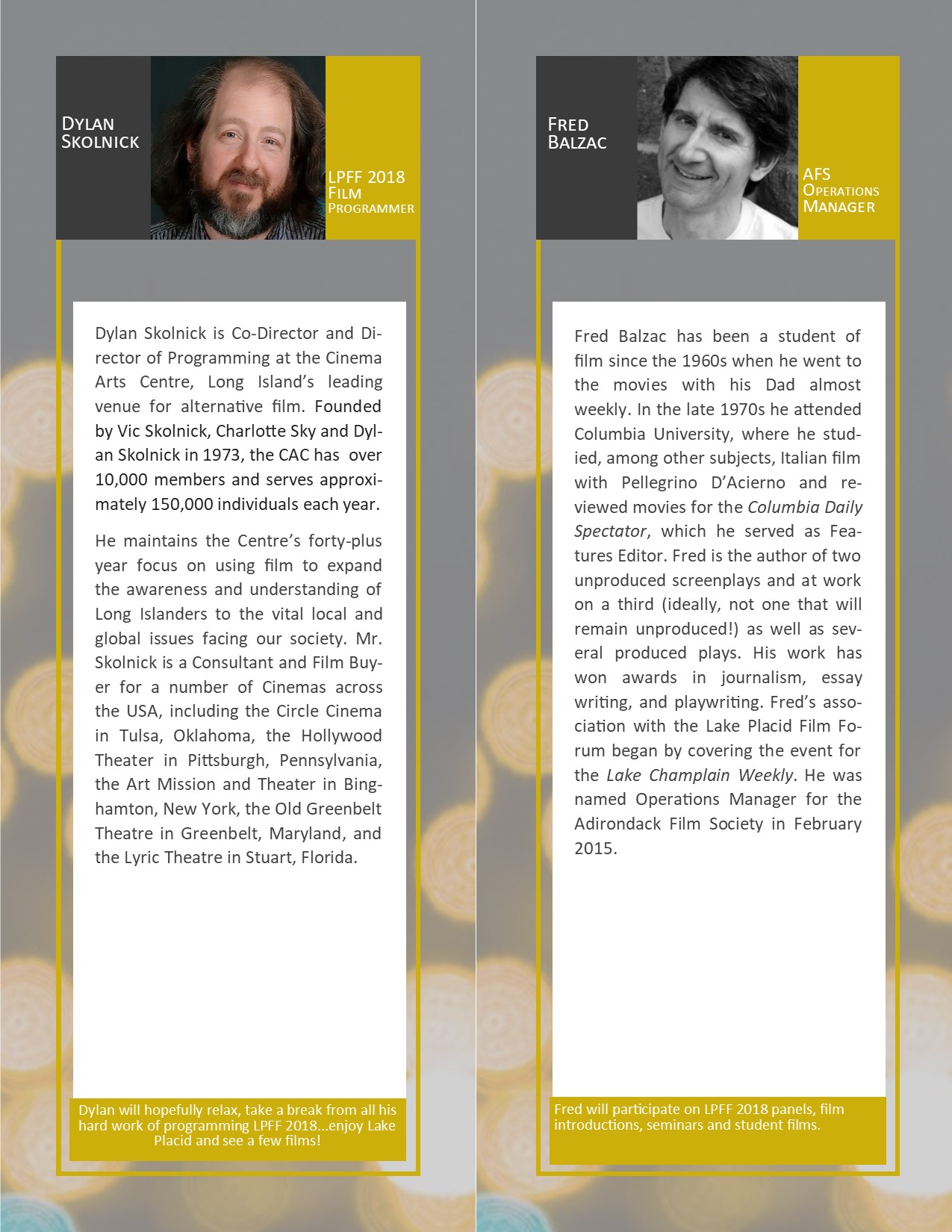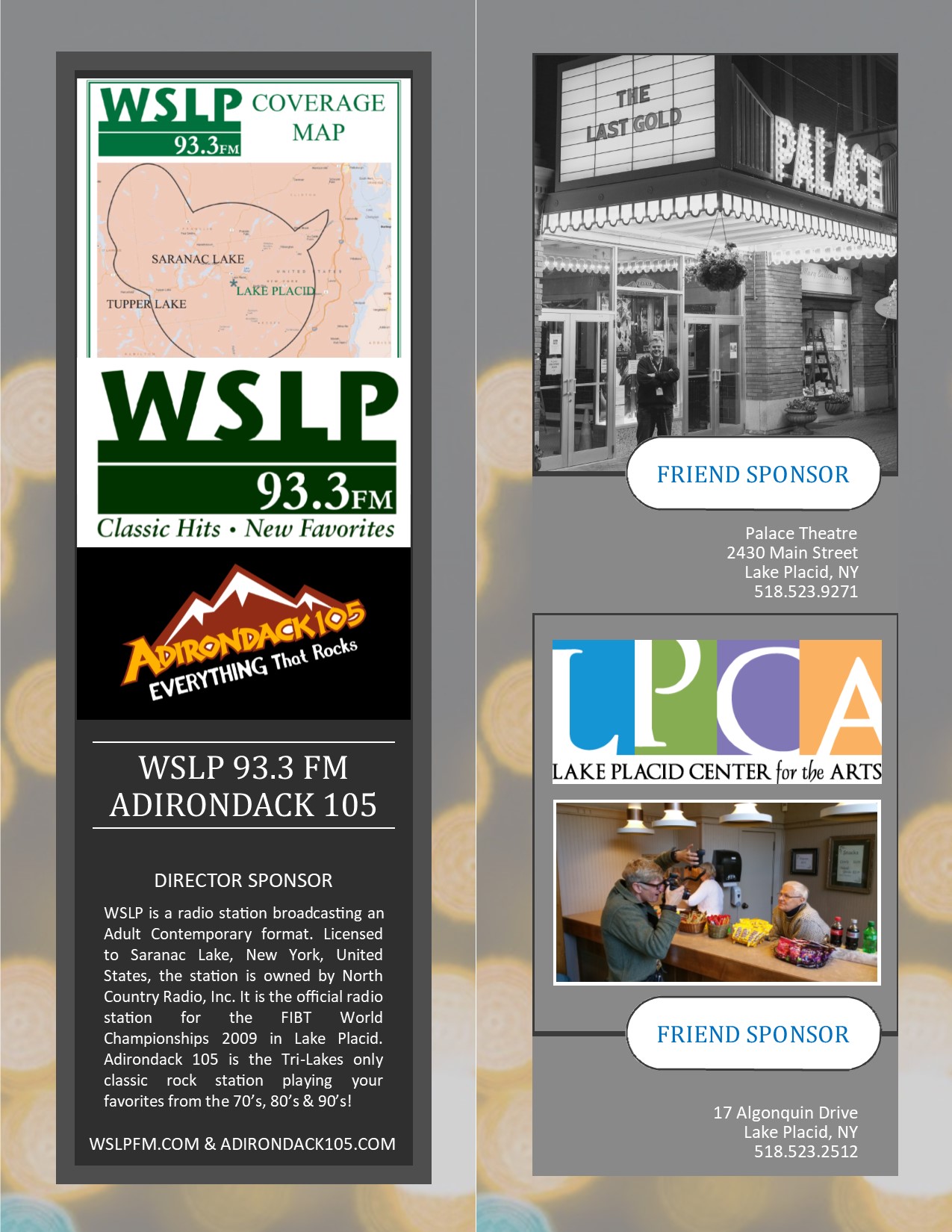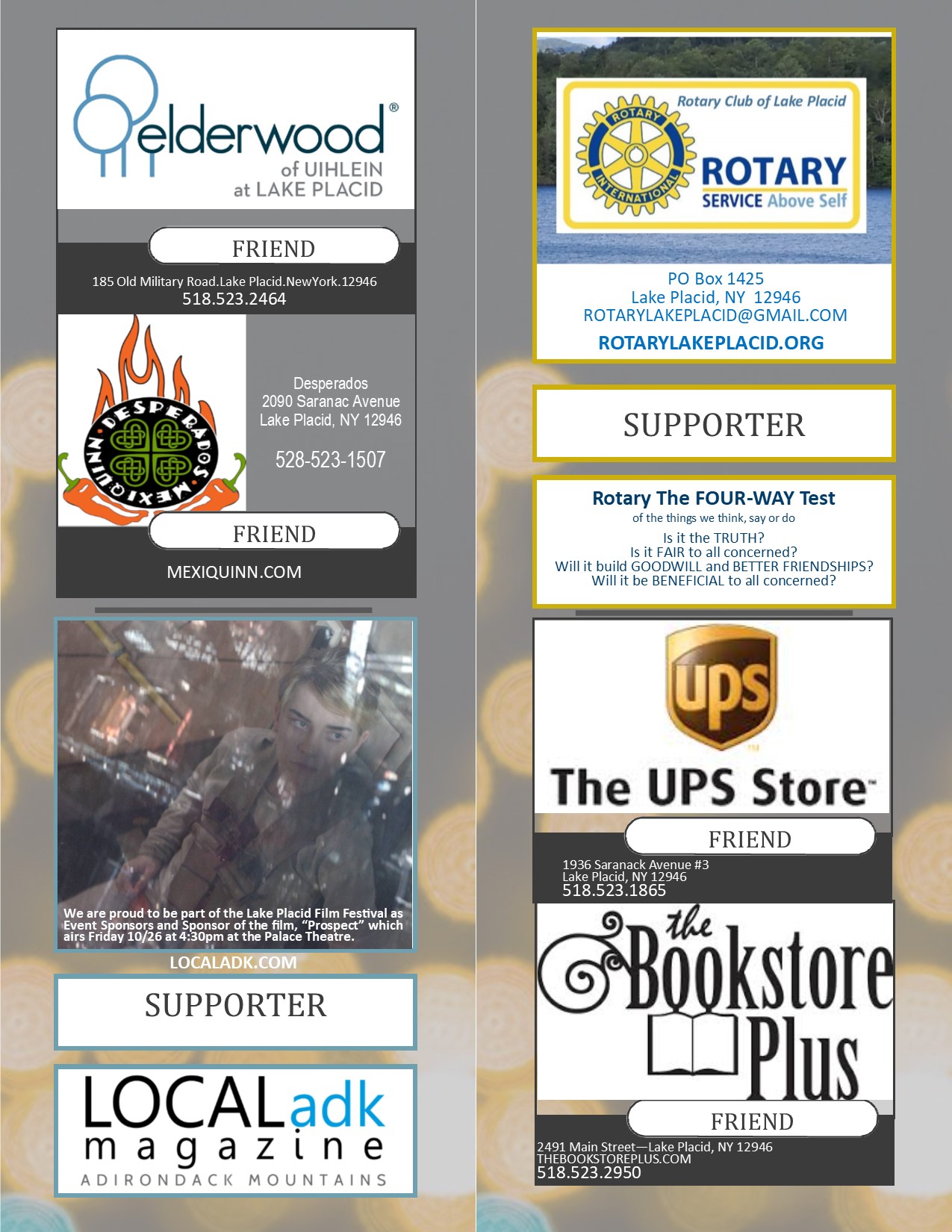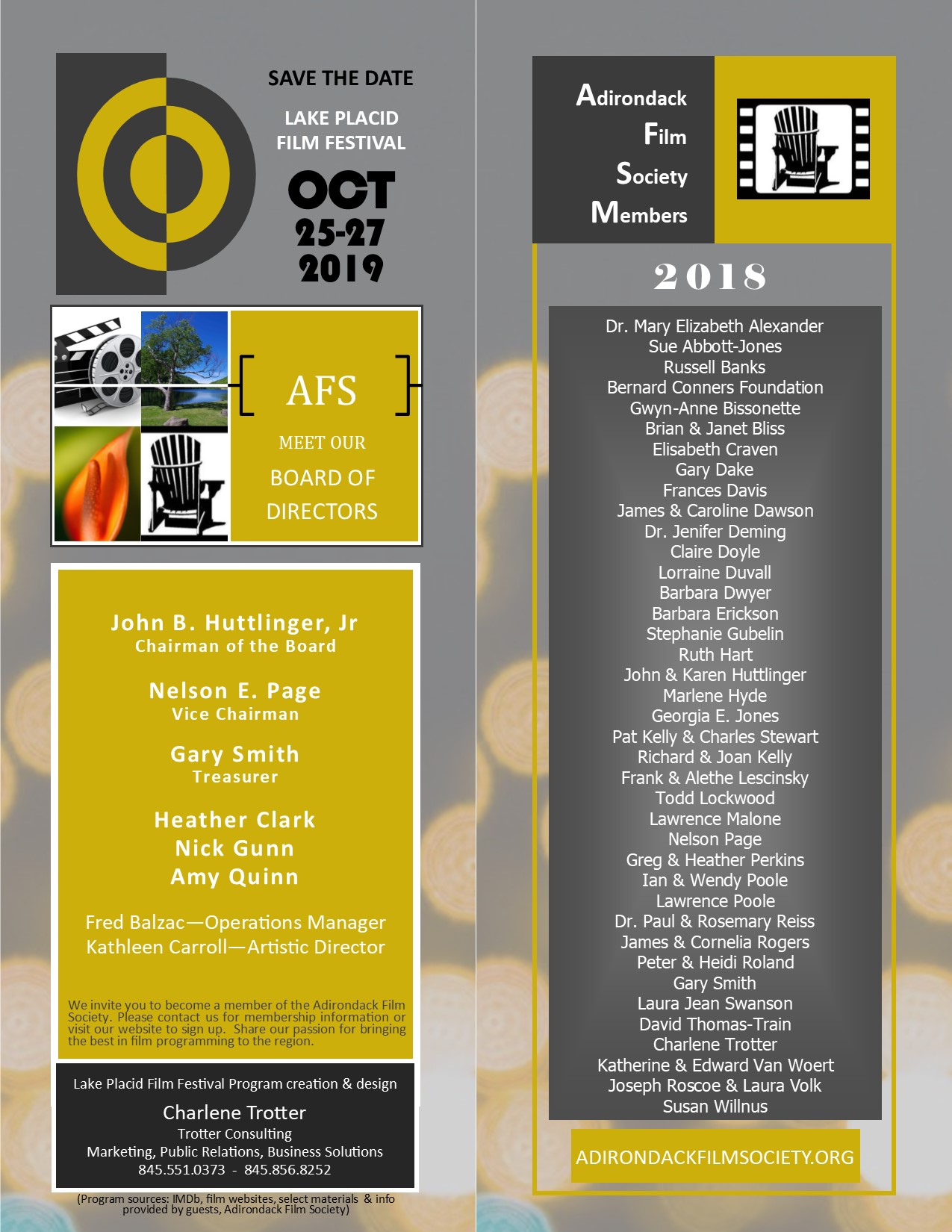 Stimulating conversations, insights & commentary…
we do it better!
on the set of "Jaws" with actor Robert Shaw.
A Chat with Kathleen
Nelson Page, Vice Chairman of the Adirondack Film Society chats with Kathleen carroll, co-founder & artistic director of the lake placid film festival and former film critic of the new York daily news about early influences.
Nelson: We know you as a big city movie critic, who for many years worked for The New York Daily News, but you are, in fact, a native of the North Country. One of my favorite stories you've related to me, was that as a young girl growing up in Lake Placid, you were encouraged to talk to strangers. Would you tell us about that?
Kathleen: My parents and my brother and I lived in a small cottage on the grounds of the Lake Placid Club, a private resort that was founded by Melville Dewey, the creator of the Dewey decimal system used by libraries. My parents would occasionally invite club guests to come to their house. Growing up in a resort town that was so dependent on tourism and living on the grounds of the Lake Placid Club meant that my parents all but encouraged us to talk to strangers or at least to their friends who ranged from the CBS newscaster Lowell Thomas to the writer William L. Shirer (the best-selling author of "The Rise and Fall of the Third Reich."). One of the guests who came to the house was the famous boxer Gene Tunney. He was relaxing in the living room when my brother Kevin, who was a mere tot then, rode his tricycle into the room and bumped into Tunney's legs. Tunney jumped up, He kept saying "My knees, my knees." So it was that this famous boxer was nearly outmatched by an aggressive toddler.
Nelson: Over the many years, both here in Lake Placid as well as in your job at the paper, you met with and interviewed dozens of famous people. Which individual stands out as the most interesting and/or fascinating…and yes, you can excuse me from that list!
Kathleen: My curiosity about people eventually helped me when I had to meet such legendary movie stars as Cary Grant (whom I chatted with at a small dinner party in Hollywood while his date for the evening, a young actress, looked plainly bored). I have to admit however that I did find it difficult to talk to Marlon Brando when he suddenly popped up on the rugged Montana location for "The Missouri Breaks."
But I couldn't help but warm up to the equally formidable Joan Crawford who called me one evening to invite me and my predecessor at The Daily News, Wanda Hale, to her apartment for cocktails. "Call me Joan," she insisted. A day later she greeted us at her door wearing no make up and a bathrobe. We feared we had the wrong night but she insisted we come in. She even managed to heat up a frozen quiche for us. Her adorable little dog promptly ate my slice of quiche.
Nelson: I'll see you at the "Tribute Gala" in your honor, and of course, the festival! Thank you Kathleen, it's been truly wonderful working with you on the LPFF all these years.
Kathleen: Thank you Nelson.
(LPFF Tribute Gala Honoring Kathleen Carroll will be held on Thursday, October 25, 2018 at the High Peaks Resort at 6pm.)
A chat with Jeremy
Nelson Page, Vice Chairman of the Adirondack Film Society chats with Jeremy Arnold, TCM commentator, film historian and writer about his selection of "The Lion in Winter" (50th Anniversary screening) for the 2018 Lake Placid Film Festival scheduled October 26-28th.
Nelson: Jeremy, what keeps bringing you back to the Lake Placid Film Festival?
Jeremy: I've spent at least part of every summer of my life in Lake Placid, and trips to the Palace Theater (and, in the old days, the Harbor Theater), are indelible memories. I remember when the Palace was one screen, then two, then three, and now four, and I think Reg Clark and his family did a magnificent job maintaining the theater's charm through all the financially necessary redesigns. There's something very American about the way the theater marquee dominates Main Street; it makes going there feel like you're venturing to the center of the community in a way, and that movies are physically bringing people together. It sure says something that Lake Placid still even has its jewel of a theater. Most towns of this size don't anymore, and that reflects the area's affection for movies, that residents have been eager to keep supporting the Palace over the decades, not to mention the additional film offerings at the LPCA. Finally, I enjoy the diverse offerings at each year's film festival: new features, documentaries, classics, shorts. As an avid filmgoer, I want it all!
Nelson: What Essential Film are you screening for us this year?
Jeremy: "The Lion in Winter," which is now 50 years old. It imagines a Christmas court gathering in 1183 of King Henry II, Eleanor of Aquitaine and their sons, all of whom scheme and plot to determine who will succeed Henry to the throne. It is certainly essential, and it has been shown on Turner Classic Movies as part of the "Essentials" series, but it's also one of thirty classic films I profile in my new TCM book, "Christmas in the Movies: 30 Classics to Celebrate the Season." It's not usually thought of as a "Christmas film," but if you look at it through that prism, it certainly fits. It has one of the most common Christmas-movie plots: a dysfunctional family reuniting over the holiday period. It doesn't matter that it's also a historical drama set in France — a period piece with period costumes. At heart, it's about family tensions, which the holiday season only exacerbates.
Nelson: Over 50 years later, do you think "The Lion in Winter" still has the impact on audiences as it did when it was first released?
Jeremy: I'll go out on a limb and predict that the audience in the Palace Theater will be electrified. Those who've seen it will revel in revisiting it, and newcomers will be astonished at how modern and fresh it feels. It has one of the juiciest scripts ever written. I just described it as a historical drama, but it's also a piece of high comedy that emanates a zest for all its manipulative characters. They love the game they're playing all the more so because it could easily turn deadly, and the audience is completely on board. It may be a royal family, with conflicts taken to melodramatic extremes (which creates huge entertainment value), but audiences can still easily relate to the central notion of family conflict. As US Weekly might say, "they're just like us!" There's also a joyousness to all the proceedings that itself represents the season. Audiences' jaws will also drop at seeing Anthony Hopkins and Timothy Dalton in their screen debuts alongside the legends Peter O'Toole and Katharine Hepburn.
Nelson: There is no doubt that Hepburn and O'Toole have great chemistry on screen. Did you feel that their age difference was in any way distracting?
Jeremy: Not one bit. Hepburn was indeed 25 years older than O'Toole, but they are true equals in this film. O'Toole is physically aged, thanks to makeup, and his skills as an actor make us believe him to be older, and his chemistry with Hepburn convinces us of their characters' long history. They became great friends in real life, and their relationship off camera mirrored that of Henry and Eleanor: she often badgered him about being late to the set or all the practical jokes he would play on her, but underneath was a tremendous mutual respect and admiration. The real Henry II, incidentally, was 19 years older than the real Eleanor of Aquitaine. So here's a case of the movies reversing the usual trend of pairing a much older leading man with a much younger leading lady, even when it could easily have been justified!
Nelson: Based on a stage play, "The Lion in Winter" joins a long list of films that went from stage to screen. Do you think this process limits the scope to which a director can work?
Jeremy: Generally, yes. What works beautifully on stage can feel tedious on screen. All too often, a stage adaptation is a kiss of death for a movie because the result can so easily be pictures of people standing in rooms and talking. Movies at their best can do so much more than that, absorbing an audience and expressing emotion by means of skillful visual storytelling: editing, lighting, a mix of long shots and close-ups, sound design, music, and so forth. "Pure cinema," as Hitchcock called it. There are exceptions, of course, and "The Lion in Winter" is a great one. The sensational, theatrical dialogue by James Goldman is still there (he adapted his own play), but the film feels alive and opened up. It's the exception that proves the rule, if you will. The actors modulate their performances to degrees that work for the screen, and the director Anthony Harvey, in only his second movie, uses cinematic tools, not just that dialogue, to tell his story. The 134 minutes go by in a flash.
Nelson: An unfair question, but I promise it will be my last; what is your favorite film?
Jeremy: "Casablanca."
Nelson: Sorry…I lied! Now tell us why it's your favorite.
Jeremy: It gets better every time I see it. And I've seen it countless times. Ironically, it was also based on a play! But it feels like a movie in the best sense. It moves, it flows, it gives us drama, comedy, romance, suspense, action, memorable music and songs, with a perfect cast headed by Bogart and Bergman. And it was not made as an "important" film. It was simply an ordinary Hollywood movie of the time churned out by Warner Brothers that no one thought would be particularly special. Its perfection happened organically, if you will. The cast and crew were all very professional, but they weren't "trying" to make a film for the ages, and the result was all the better for it.
Nelson: Thanks Jeremy, you're the best
Jeremy: My pleasure!
(Jeremy Arnold is a writer, film historian and commentator with particular expertise in the movies of Hollywood's golden era of 1930-1960. He is the author of the forthcoming book "Christmas in the Movies: 30 Classics to Celebrate the Season," due out in Fall 2018, and "The Essentials: 52 Must-See Movies and Why They Matter," published in 2016 by Running Press and Turner Classic Movies.)
Directors, Actors, Producers take the stage…
Academy Award-winning director Martin Scorsese, right, was the main guest of honor at the 2004 Lake Placid Film Forum, where he presented a restored version of Visconti's Italian-language classic, "The Leopard," following which he was interviewed by actor Jon Favreau.
(Photo courtesy of the Adirondack Film Society)